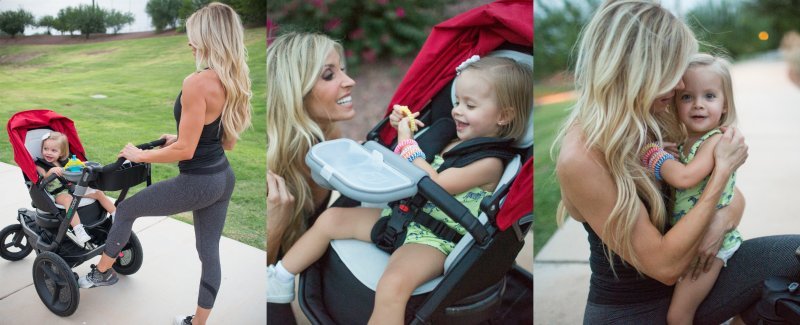 Thankfully, the temps here in AZ are dropping?a bit?so we?re finally able to spend more time outdoors taking in some amazing scenery. I LOVE this time of year, and I love working out outside even more! And while my amazing Ergobaby Performance Carrier is still handy for little Miss Ruby (remember all our babywearing adventures?), she kinda? wants to be her own little self and not ride on my back anymore (wonder who she gets her independence from?!) 🙂 So?I was left with a bit of a conundrum: How to get in some incredible workouts AND continue to spend some quality mother-daughter bonding time with my little miss in the beautiful out of doors.
Lo and behold, Orbit Baby (my trusted stroller/car seat brand) totally outdid themselves! Legit, I have used their strollers and car seats since Cashy was a newborn?and have NEVER veered. While their original stroller travel system was always a fave of mine, they have since come to my workout rescue with their brand spankin? new Orbit Baby 02 Hybrid Jogging Stroller (which hit the market THURSDAY…and they are so kindly giving one away to one of you!!!!). And let me tell you?this stroller is a dream come true! Not only does it have the modern and sleek look that all Orbit Baby products have, but it also has mega storage space (which any mother needs), an adjustable handle (in case you choose to share it, but you totally might not!), a 360-degree rotating AND adjustable seat (City Mode for strolling and Performance Mode for exercising – this sold me from the get-go), an easy peasy fold up, and shock absorbers and sturdy tires for an ultra-smooth ride for both you and your little. It. Is. A. Dream.
Okay, so let?s get my latest and greatest Mommy/Daddy & Me Workout! The inspiration for this one comes from one of Chris? and my all-time favorite workouts: A Burpee Run. We love this because we can do it anywhere?hotel, airport, beach, park, driveway?and it?s an amazing, total body interval workout. So I thought, why not make a Burpee Run: Stroller Edition?! Don?t worry, I removed some burpees and added in some fun stuff! Here you go:
Mommy/Daddy & Me Workout: Stroller Edition
What you?ll need:
Stroller and little one (if you don?t have your own, borrow a friend?s) 😉
Sunscreen
Water bottle/sippy cup/bottle for both of you. And if your little one is like Ruby and likes the binky a little too much, grab your WubbaNub. 😉
Warm up: Do some whole body light stretching plus the following (take these nice & easy):
15 Squats: Be sure to lock the stroller?s parking brake for this. Use the stroller as a counter balance, but be sure you are not pulling on the stroller as you lower. If you feel safer, go ahead and step away from the stroller and do free-standing air squats.
15 Push ?n Pulls on each side: Remove the brake for these. Standing sideways with feet about shoulder-width apart and holding the stroller tightly with one hand, simply push the stroller away from your body (but never let go), then pull the stroller back, engaging your lats. Repeat.
10 Side Kicks on each side: Put the stroller in park. With feet together and both hands on the stroller, simply kick one leg out to the side, keeping your toe pointed forward and engaging your glutes. Squeeze at the top, lower leg, and repeat.
10 Kick Backs on each side: Stroller still in park, and in the same position, simply kick your leg behind you with your toe pointed down and glute engaged.

*As you might know, I?ve been a bit booty obsessed lately, so I couldn?t help but throw in a few of my fave moves to lift and build our Mama booties!
The Workout:

This entire workout should take about 15-20 minutes. While you can sure start by doing this once through, repeat this workout often enough to build your stamina and endurance, and before you know it, you will be more than capable of repeating this workout 2, or even 3 times in one outdoor session!
NOTE: If your toddler does get a bit wiggly, go play for a bit, and then get back to working out!
Cool down: Repeat warm up.

Handy tips:
Don?t do the same exercises two days in a row. Your muscles need some time to heal and get stronger in between workouts. Try doing this Monday, Wednesday, and Friday.
If you can?t finish the suggested number of reps, stop for a few seconds, shake out those tired muscles, and then try for a few more reps.
Remember to put the brake on for most of these exercises. We don?t want your little going on a solo trip!
Don?t lean on your stroller, simply hold on to the handle for a bit of support.
Since all strollers aren?t created equal, if you feel like your stroller won?t offer adequate support, park it (remember about that brake!), and do your exercises beside your stroller holding on to a park bench or railing for extra support if needed.
Keep your core tight during all exercises, including while walking/running. Why not get some added core work at the same time?!
Watch your posture throughout your workout: Stand up straight, hold in those abs, keep your chest up, and keep the stroller close to you.

Now?to the REALLY good stuff. My $1000 stroller giveaway!! Since this is?by far?the biggest giveaway I?ve ever done, you?re gonna? have to work a bit to enter this one. 😉 Be sure and follow ALL of the instructions below, and good luck!
Orbit Baby 02 Hybrid Giveaway Instructions:
Make sure you're following me on social media and share this post on all your social media channels using the hashtag #PowellOrbitBabyGiveaway – tag me too!
Since love makes the world go ?round?or orbit (Lol) 😉 ?do a Random Act of Kindness for someone.
Comment on any one of my social media platforms (IG, FB, or the blog) with what you plan on doing, or tell me about a RAOK you did already today!
*Extra Credit! If you snag a pic of yourself doing your RAOK or just the Random Act of Kindness itself, upload it on social media and again use that #PowellOrbitBabyGiveaway hashtag and tag me in your pic!
Only one entry per person, please, but do as many Random Acts of Kindness as you want!
You have until Tuesday, September 29, 2015, 12 midnight PST to enter. One winner will be randomly chosen and announced on Wednesday, September 30, 2015. The winner will have 24 hours to shoot me an email at [email protected] to claim this amazing prize. Now go and do some kindness! 🙂
Xoxo,
Heidi
Related posts:
Shape Up for Summer: My Babywearing Workout
Oh Baby! My Babywearing Adventures Continue
Oh Baby! My Babywearing Workout
Oh Baby! My Babywearing Workout, Part 2: The Piggyback Park Workout