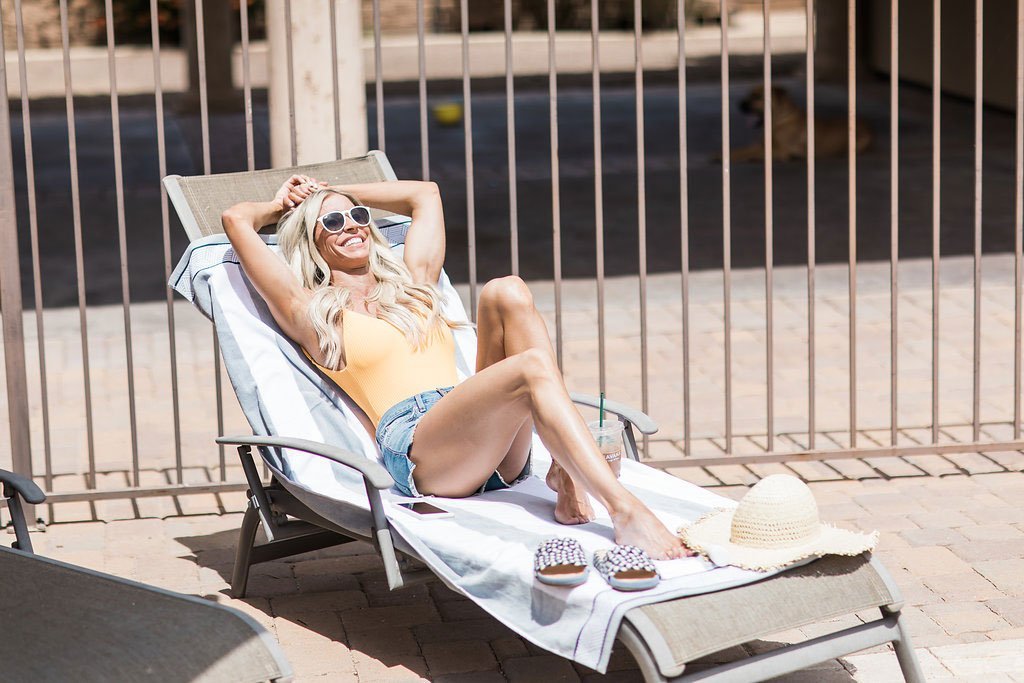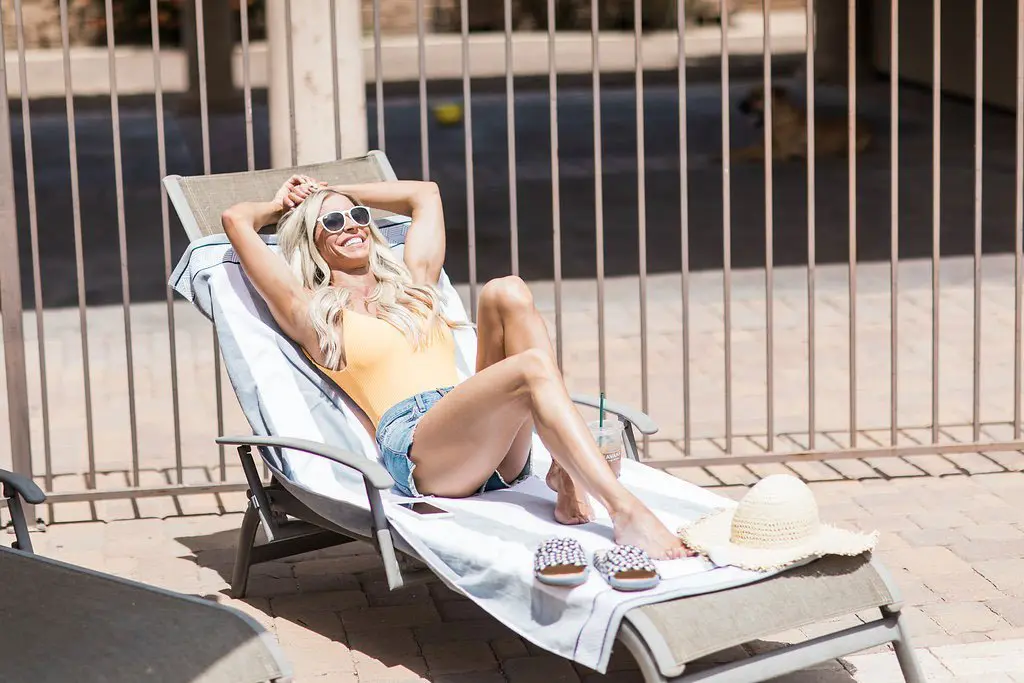 In honor of National Bikini Day (there's a day for everything, right), and with summer officially here (evidenced by the scorching hot temps and the house full of excited kiddos + rambunctious pups!), it's about time we talk about a couple of summer staples: swimsuits and shorts. But not just the fashion side—although that's in here too!
YOU, yes you, can rock a swimsuit.
We put so much value on perfection, but true perfection is embracing our imperfect selves just the way we are. And while swimsuit shopping can be something that we absolutely dread—trust me, I know—instead of thinking about what you dislike, think about all of the pieces that make you YOU.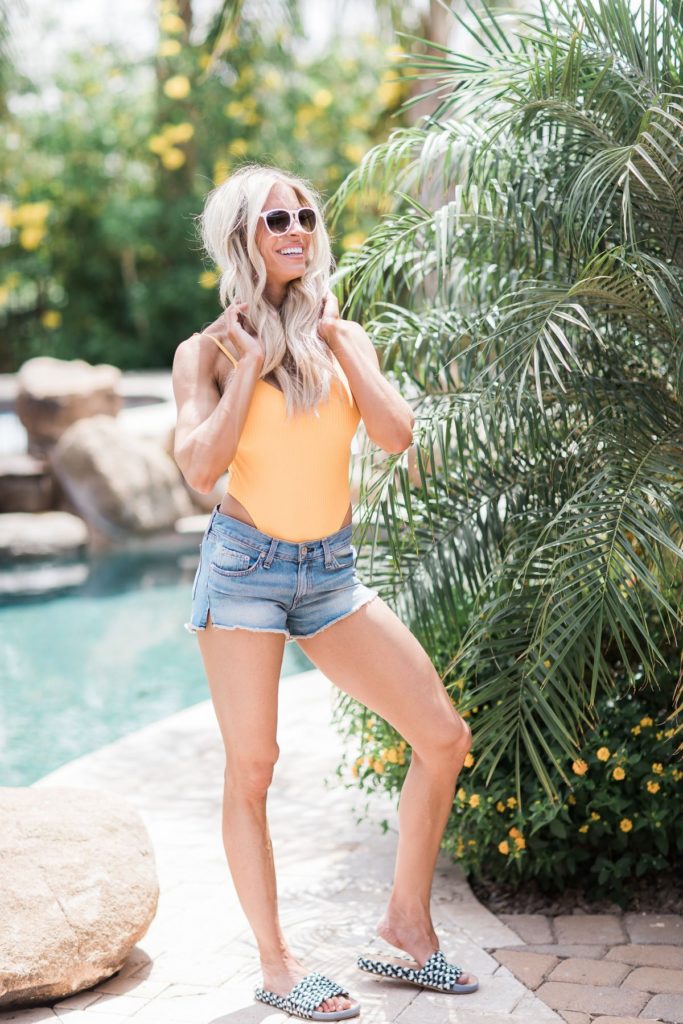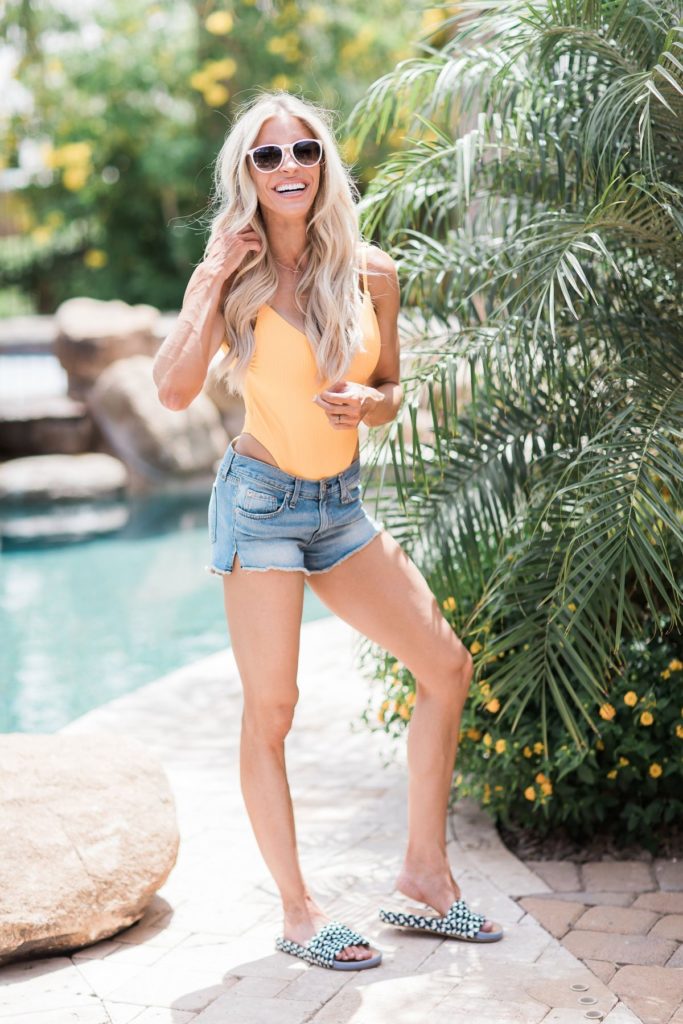 Our kids will remember the fun times in the pool, and not what we looked like in a swimsuit. I want my daughters to grow up loving themselves and creating incredible memories, and the best way to share that with them isn't by telling them, but by showing them how to have fun and embrace their imperfections because that's what I try to do myself! Now let's savor those moments and focus on what's really important this summer—having some FUN!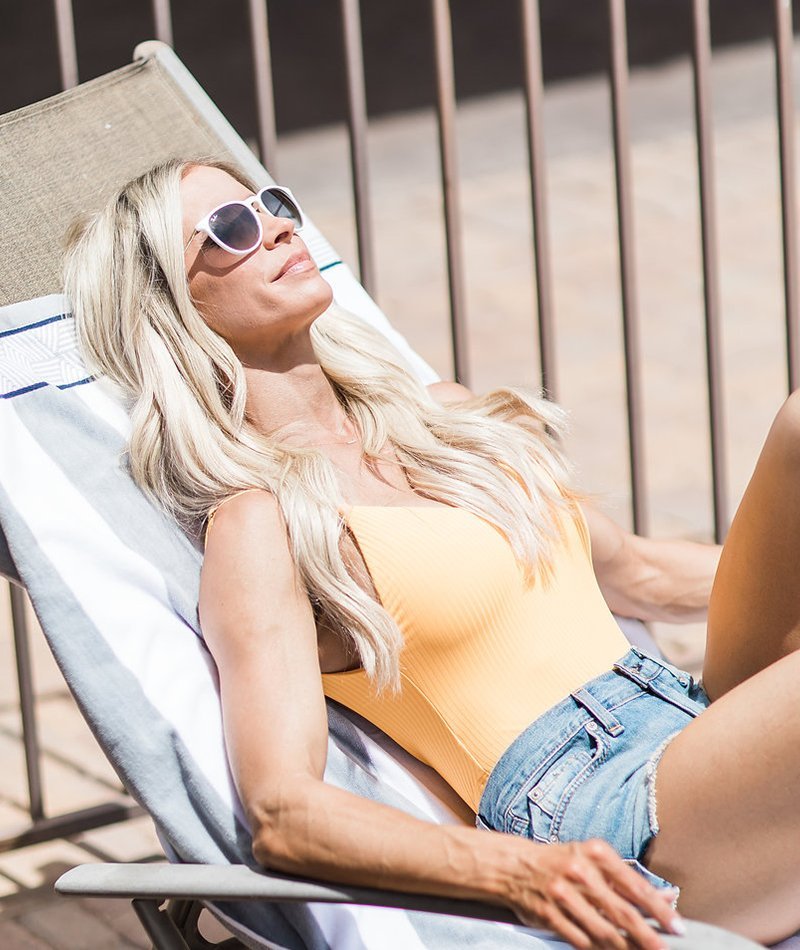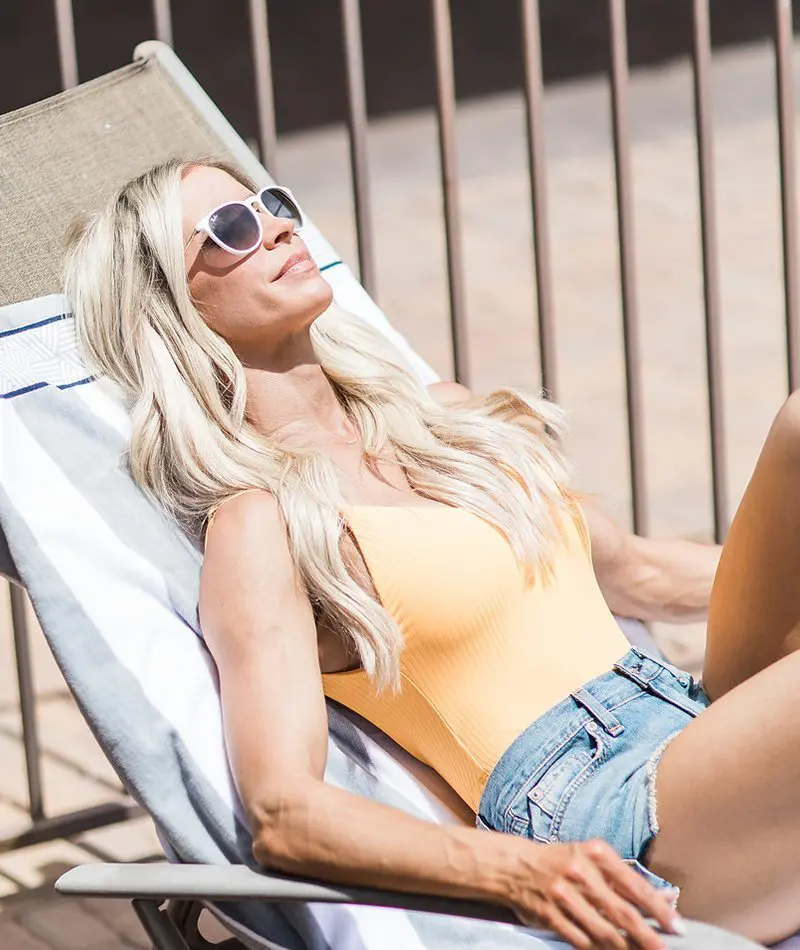 Outfit Details:
Swimsuit (similar here and budget-friendly version here), Rag & Bone Jean Shorts (budget-friendly here under $40), Soludos Slides (similar here under $40 in multiple colors and also love these under $30), Hat (similar here), and Ray Ban Erika Sunglasses (additional color on sale here and budget-friendly version here)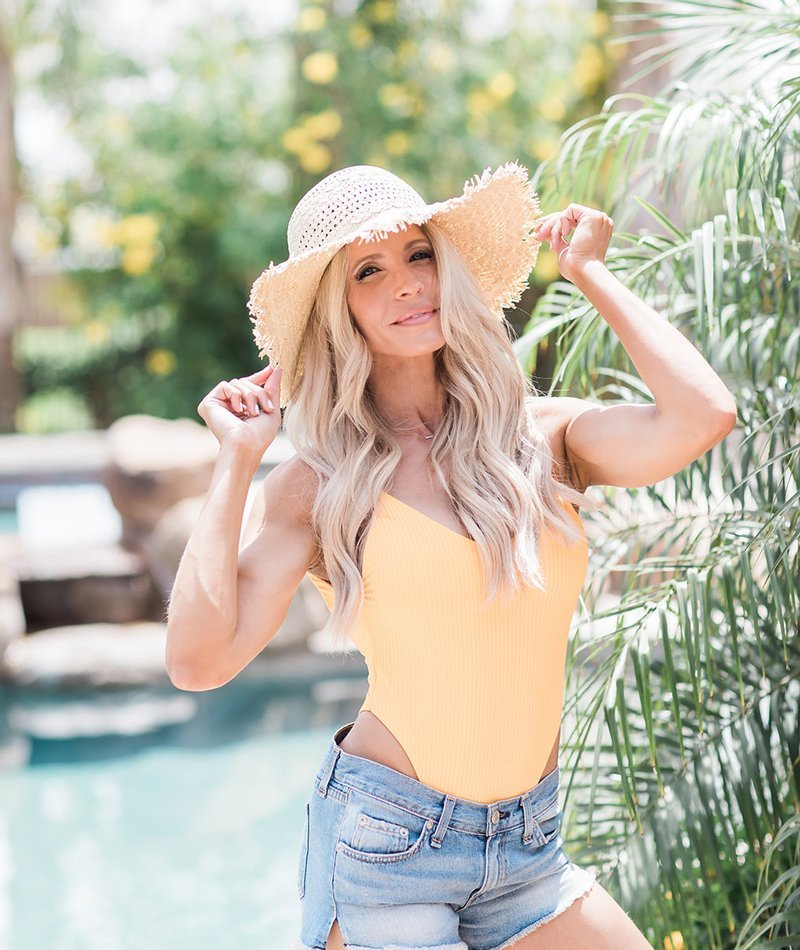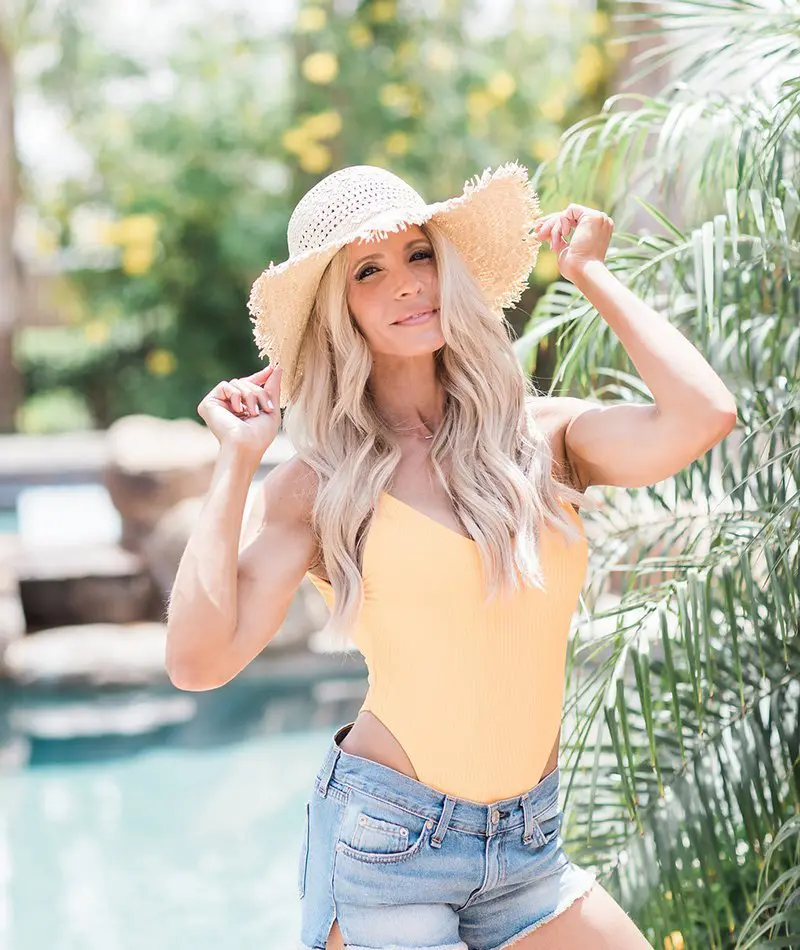 While it might be tempting to endlessly peruse—both on social media and in the store—the hot new trends like cut outs or a super deep V, simplicity and comfort are key to feeling great and having fun…and being realistic. If you're anything like me, I don't plan on chasing my kids around the pool in a swimsuit that's not covering much…of…anything!
My favorite trend this season: one piece swimsuits.
Let's be honest, I haven't worn a one piece since 5th grade but I am definitely a one piece lifer now! They are legit so cute that it's hard NOT to love them! If a one piece isn't your thing, this suit also comes in an adorable scoop neck bikini top paired perfectly with high waisted shorts! Super cute and full coverage (always a bonus).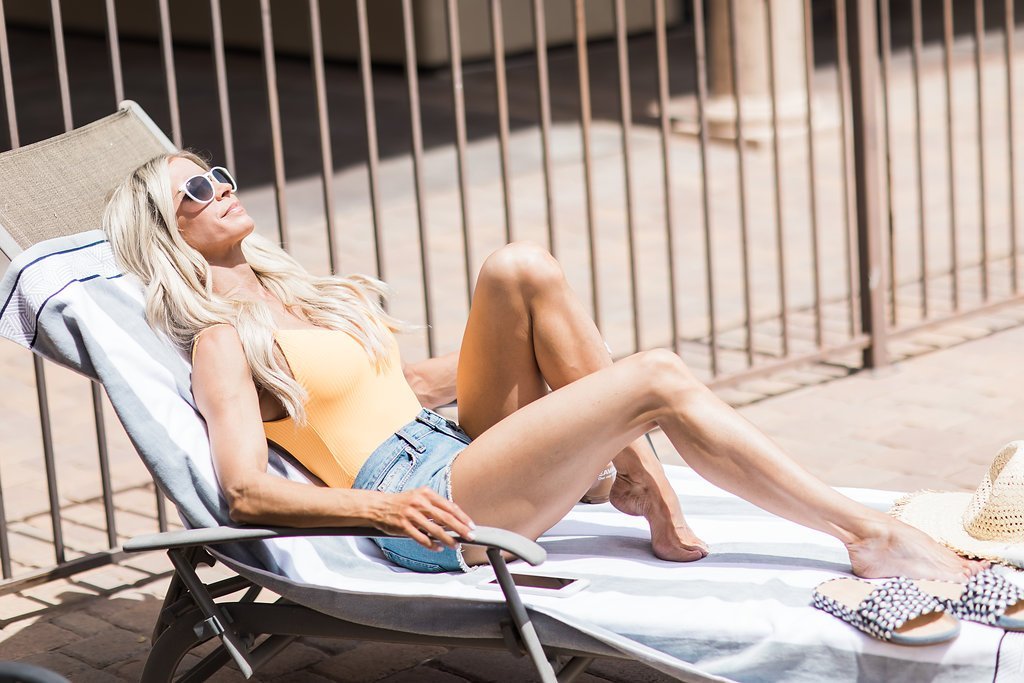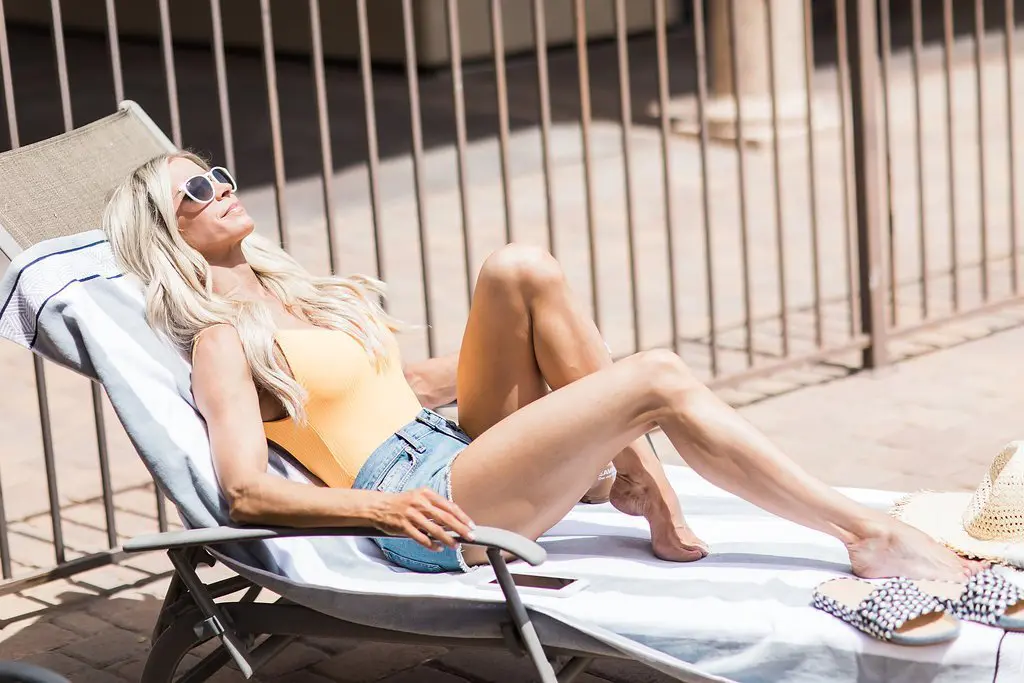 Speaking of full coverage, wearing one pieces give me a break from sucking in and/or flexing.
Plus, with my self-proclaimed love of bodysuits, adding shorts to this suit gives it a bodysuit look! Love that!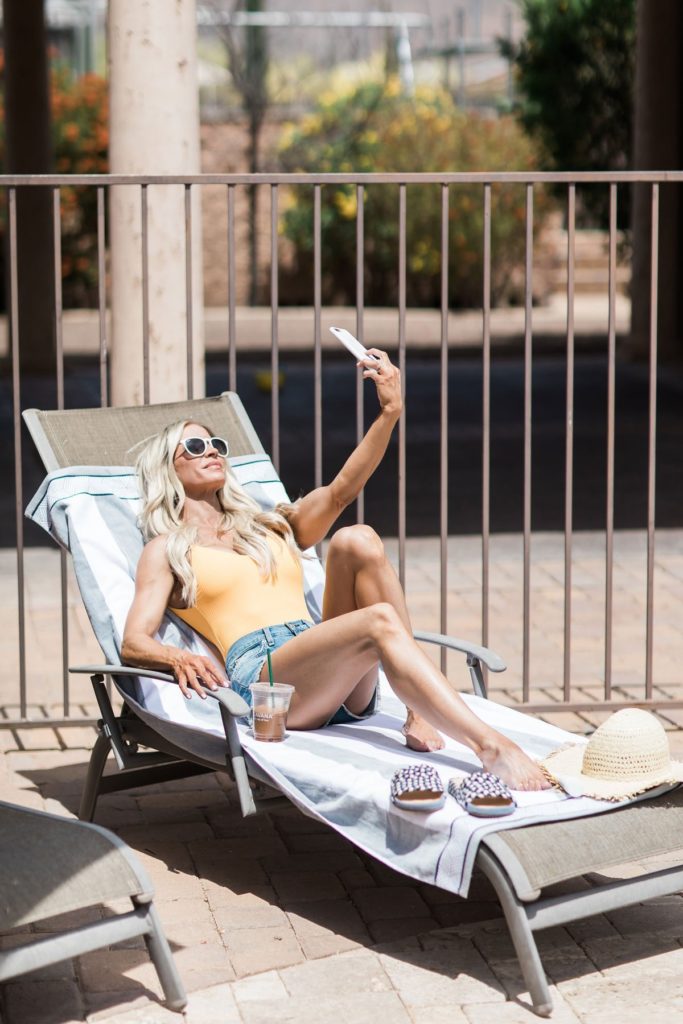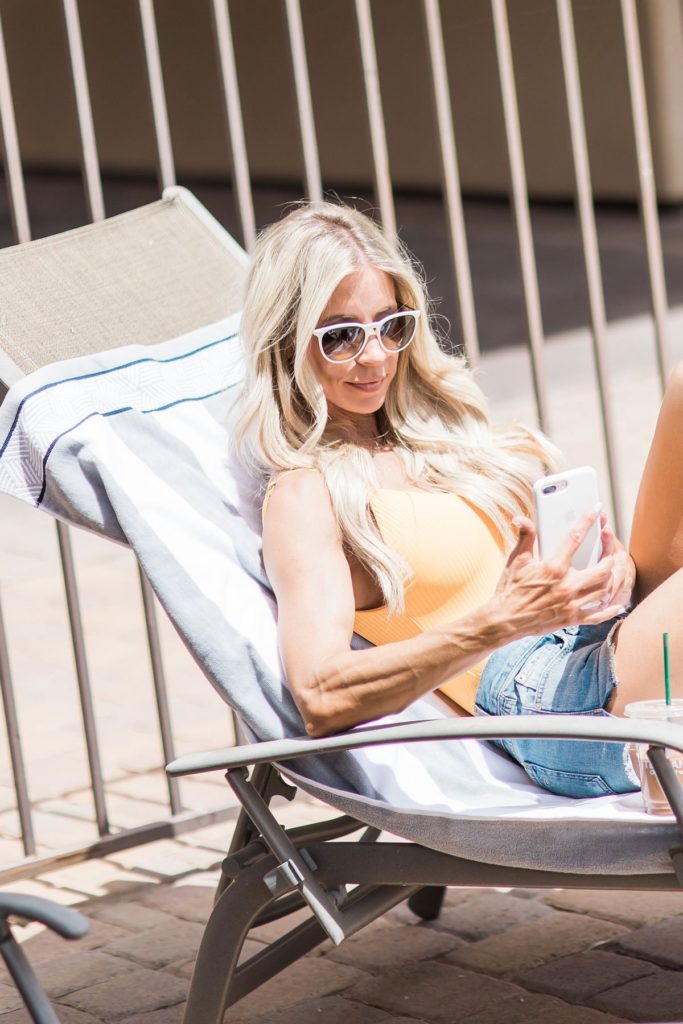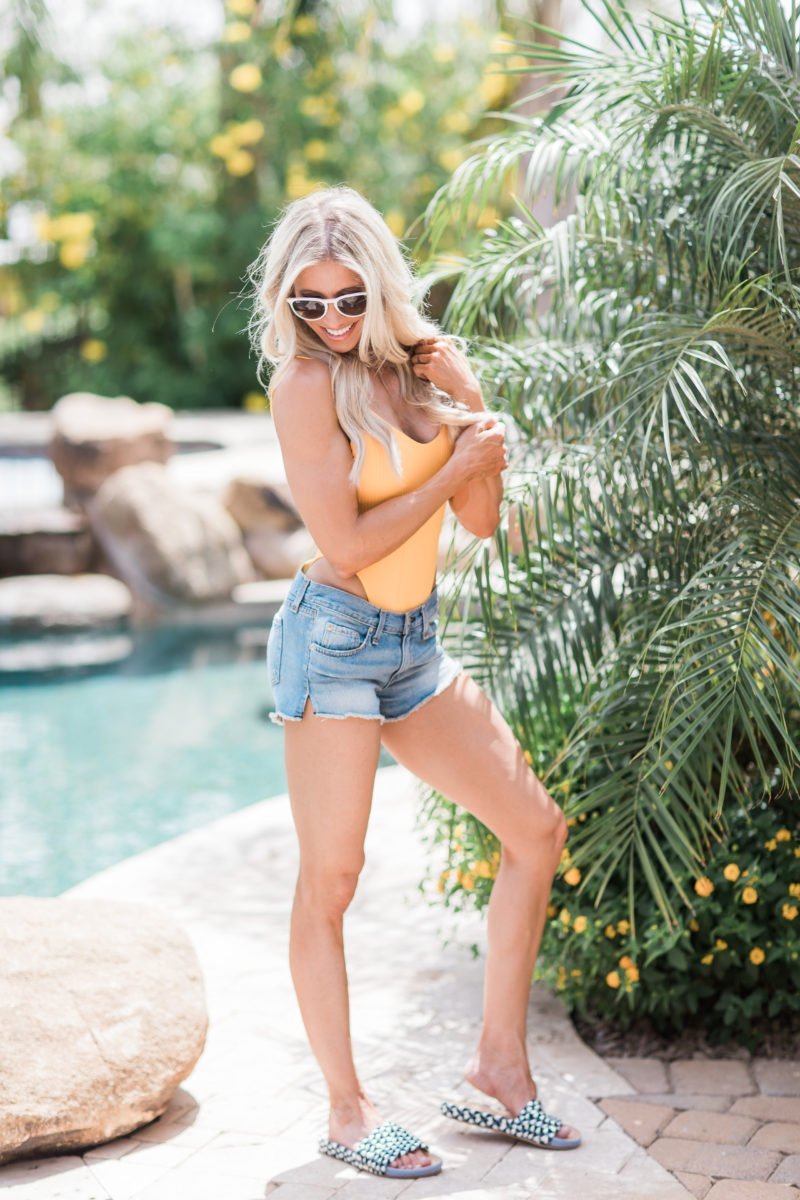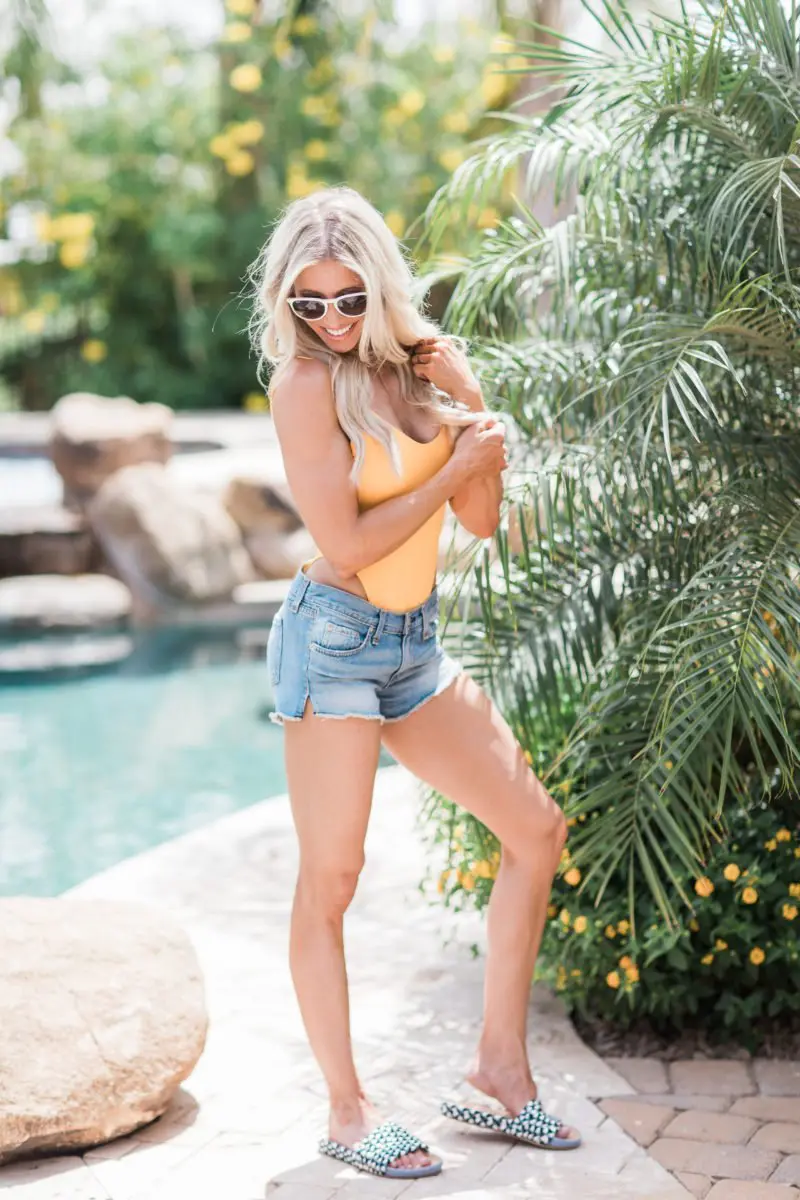 TIP: Regardless of your height, weight, or shape, I promise you there is a swimsuit out there that will make you feel like a million bucks. It's all about what you want to highlight and show off!
A high cut swimsuit will make your legs look longer!
Adding a contrasting stripe or deeper cut neckline will slim–I will never say no to that!
A one piece with ruching or a high waisted accent, like this cute one from Target (Bonus: it's under $30) or this super cute palm print suit, are some other great figure-flattering swimsuits sure to get you poolside ready.
In terms of shorts, I don't know about you, but I'm always on the hunt for good cut off shorts! Sometimes cut offs can be TOO short, though, and I like to find something that is in the middle is best for grab-and-go running around. Some of my go-to brands for shorts are Madewell, Rag & Bone, and Joe's Jeans.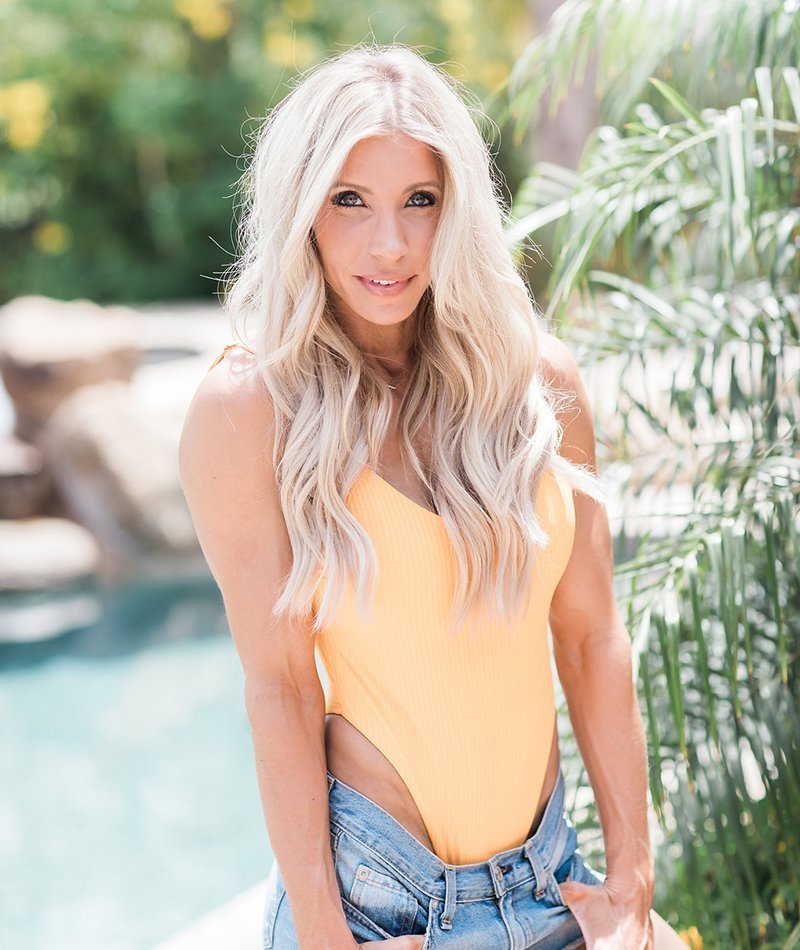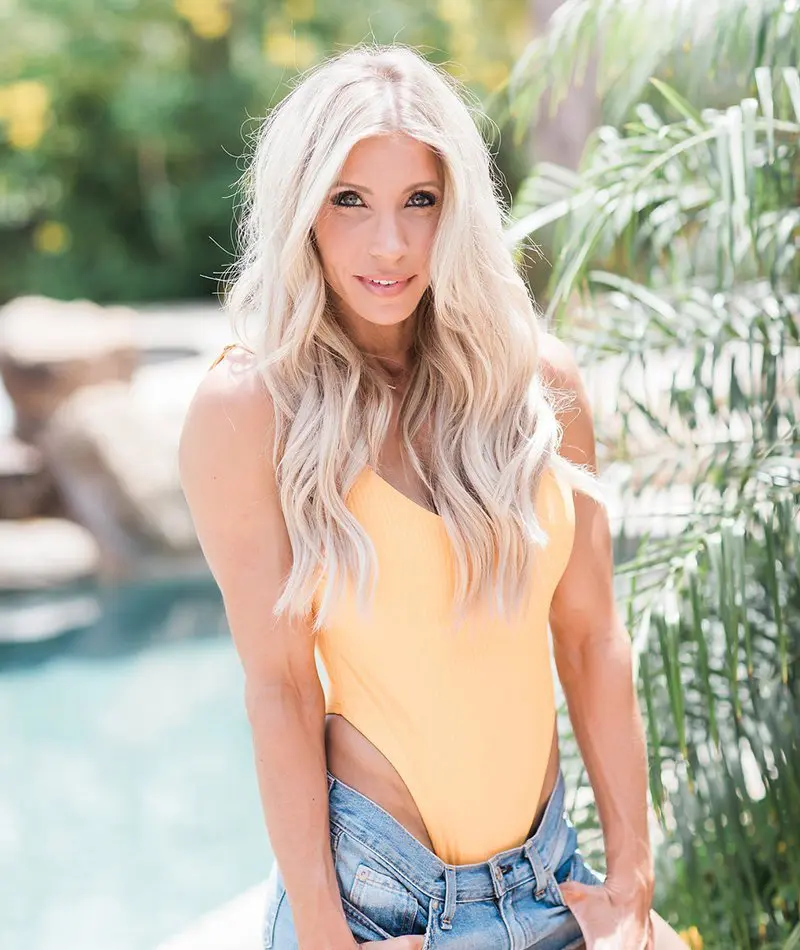 For that longer look, I go with a rolled hem. You get both the look in terms of length AND total comfort. Alternatively, a distressed denim keeps it super cute (like the ones I'm wearing here) but not too youthful (we can't all be in our 20s anymore :)). If you're going for a bodysuit look, rocking a high waisted short (LOVE these blush shorts by Madewell) is a must-have in your summer jean short rotation.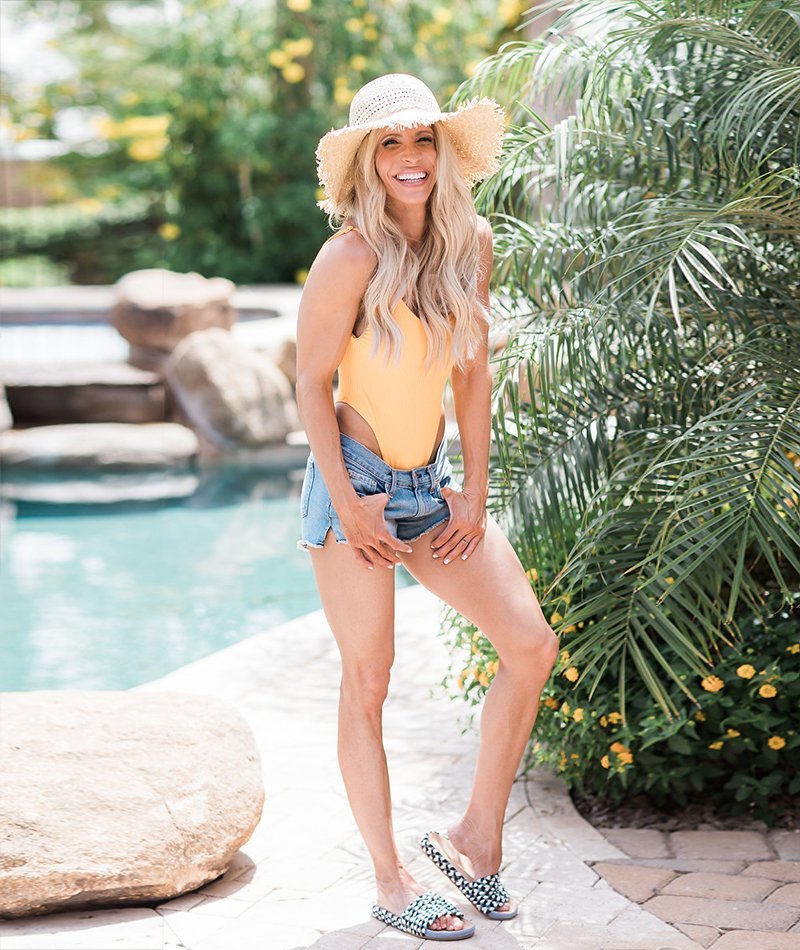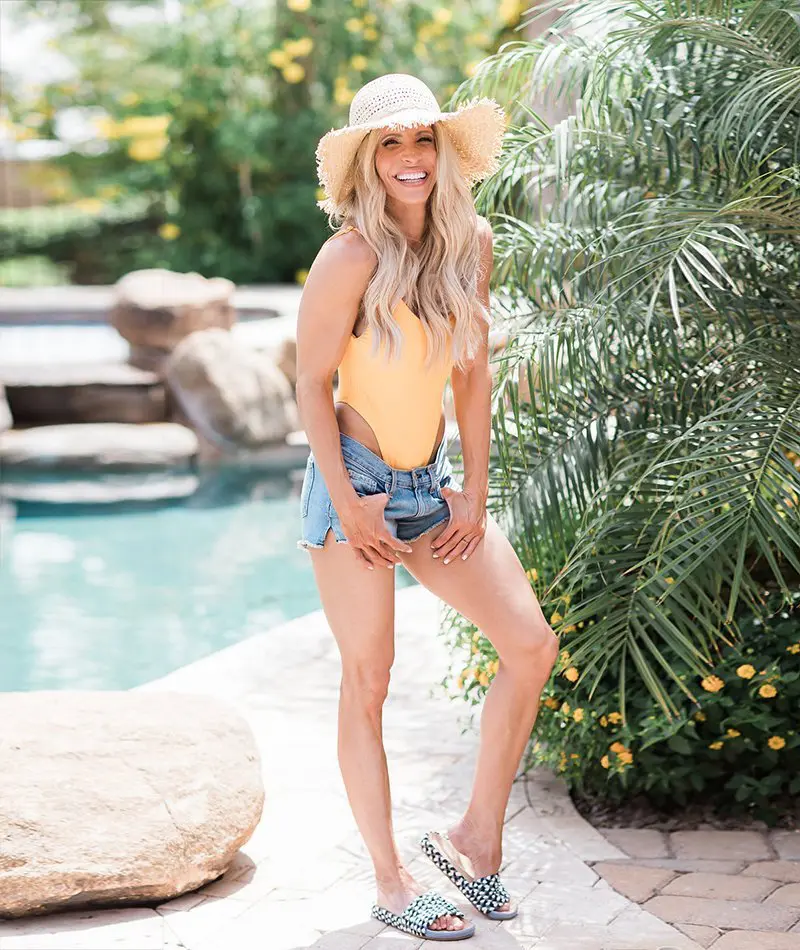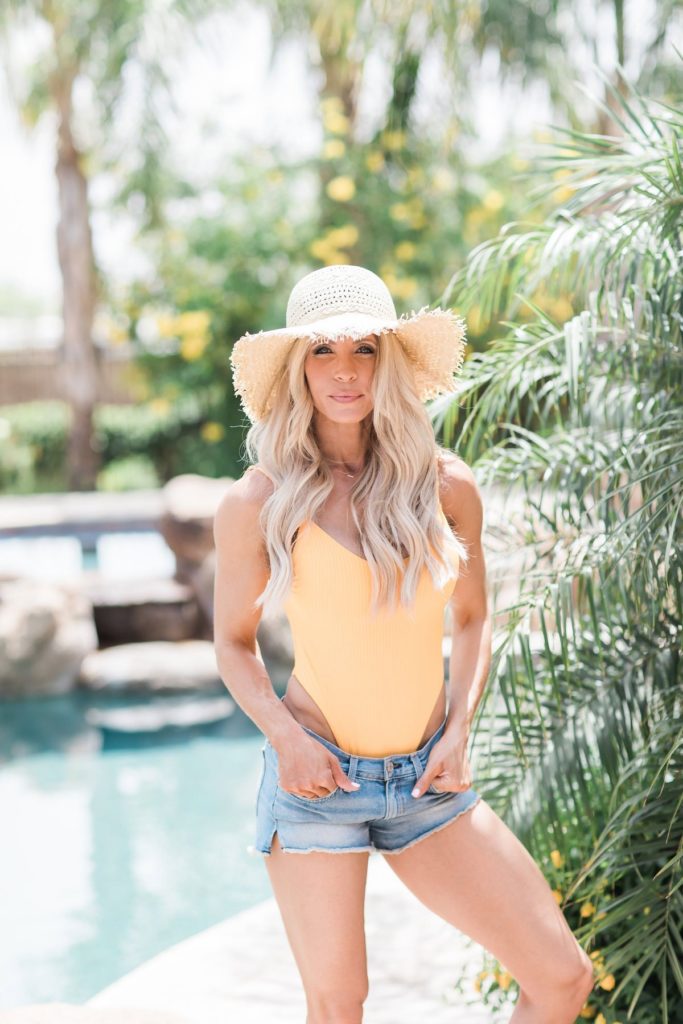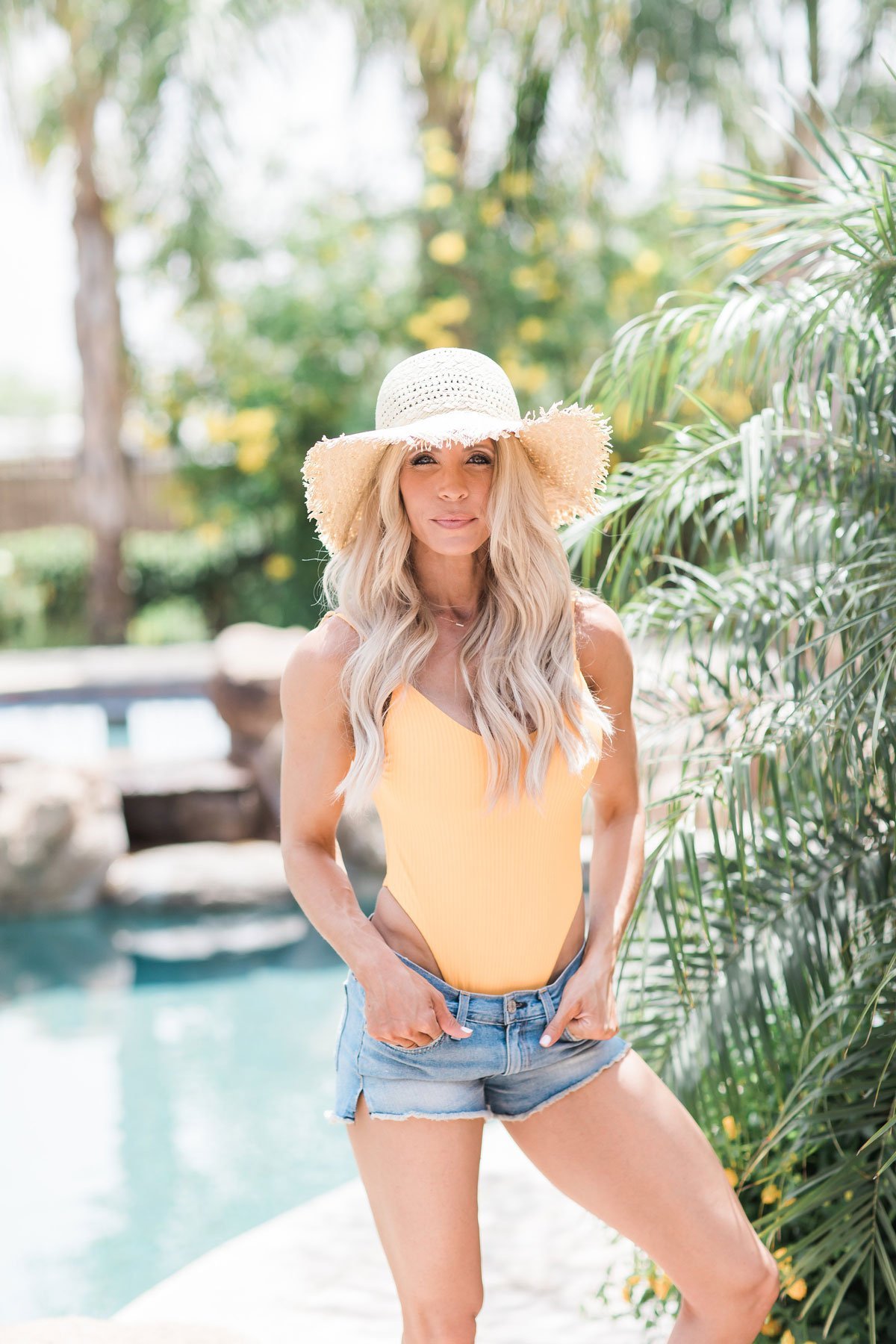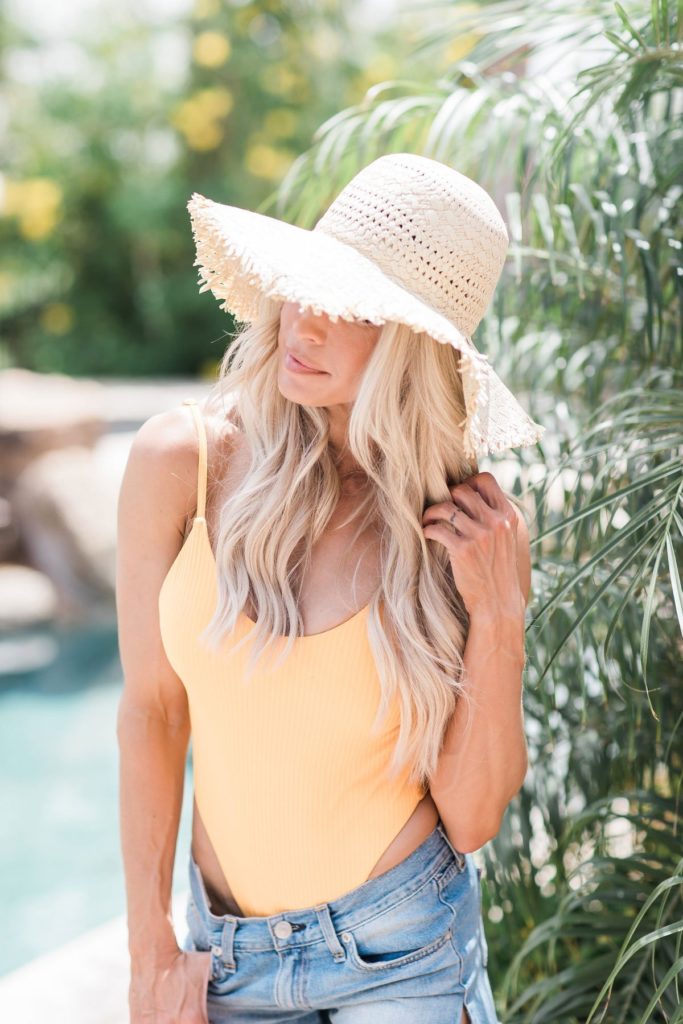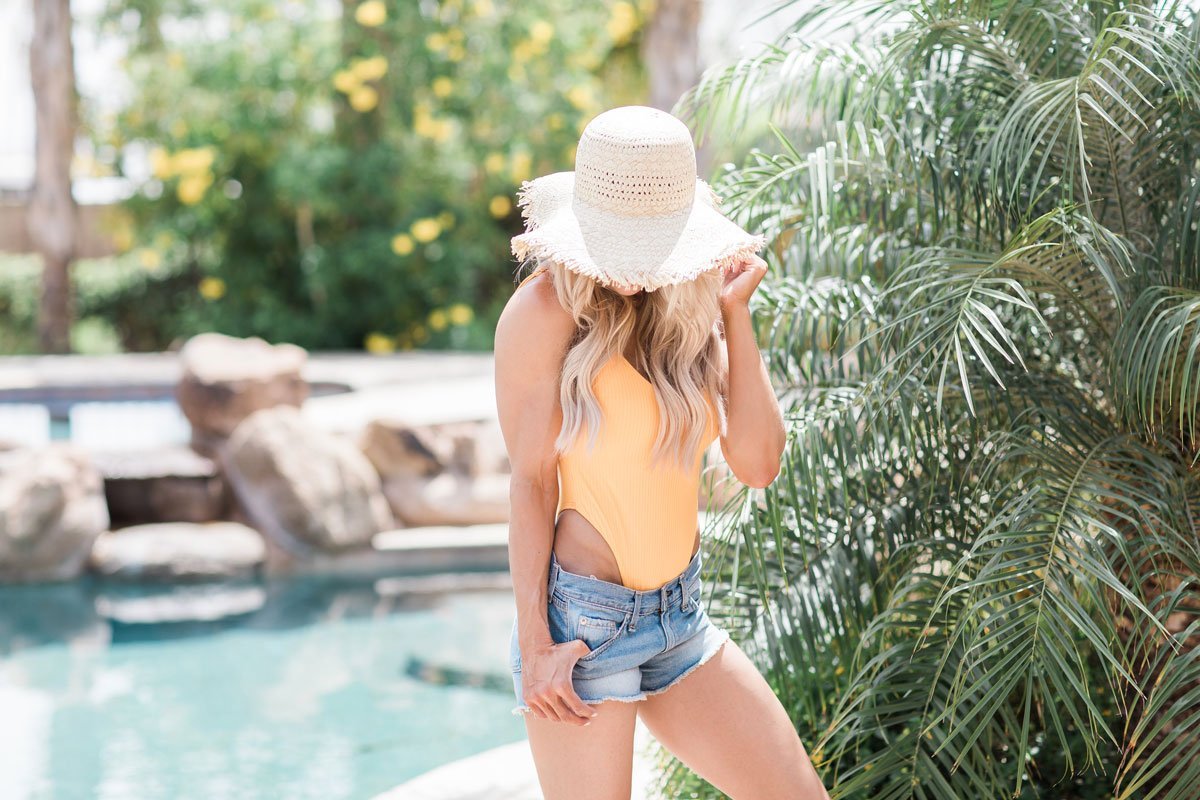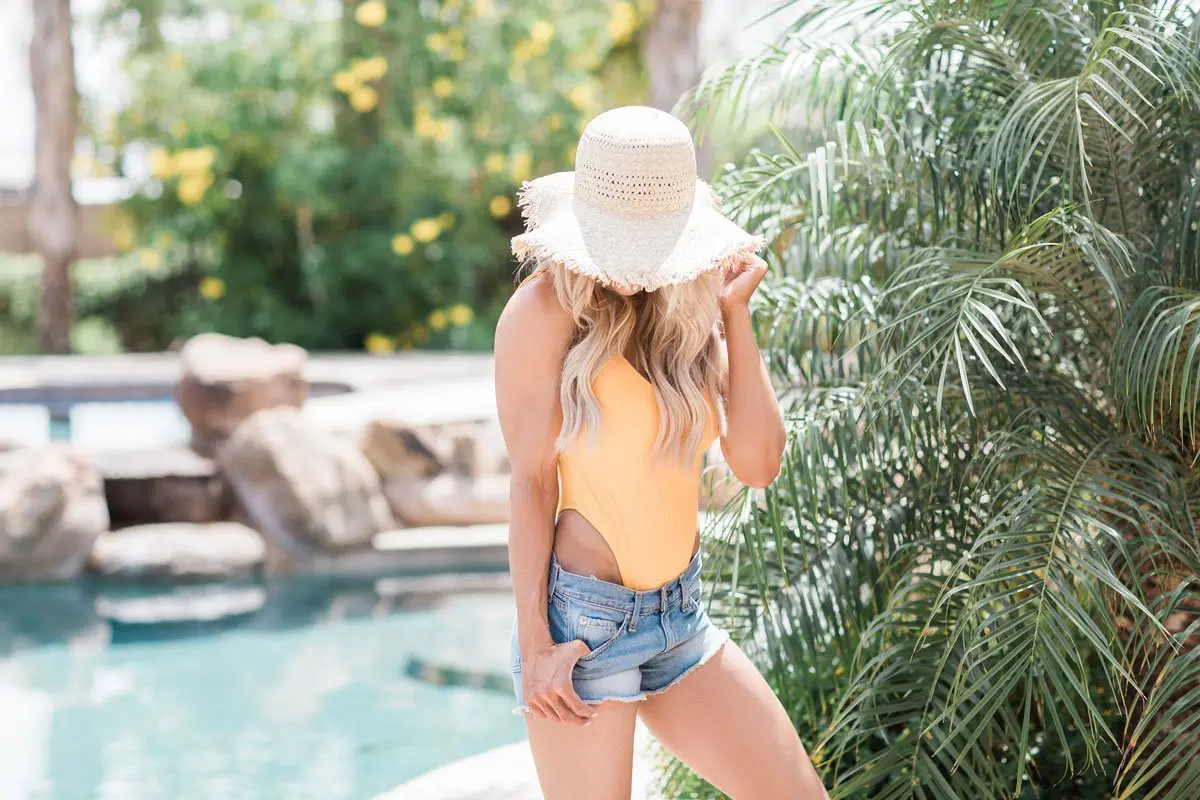 Beat the heat this summer and show off your best asset—YOU!!—by treating yourself to a swimsuit that makes you feel comfortable, and most importantly, confident this summer. Jump in that pool (make sure that lady toupee is secured if you're like me!) and have a blast this summer, I know I will!
xo,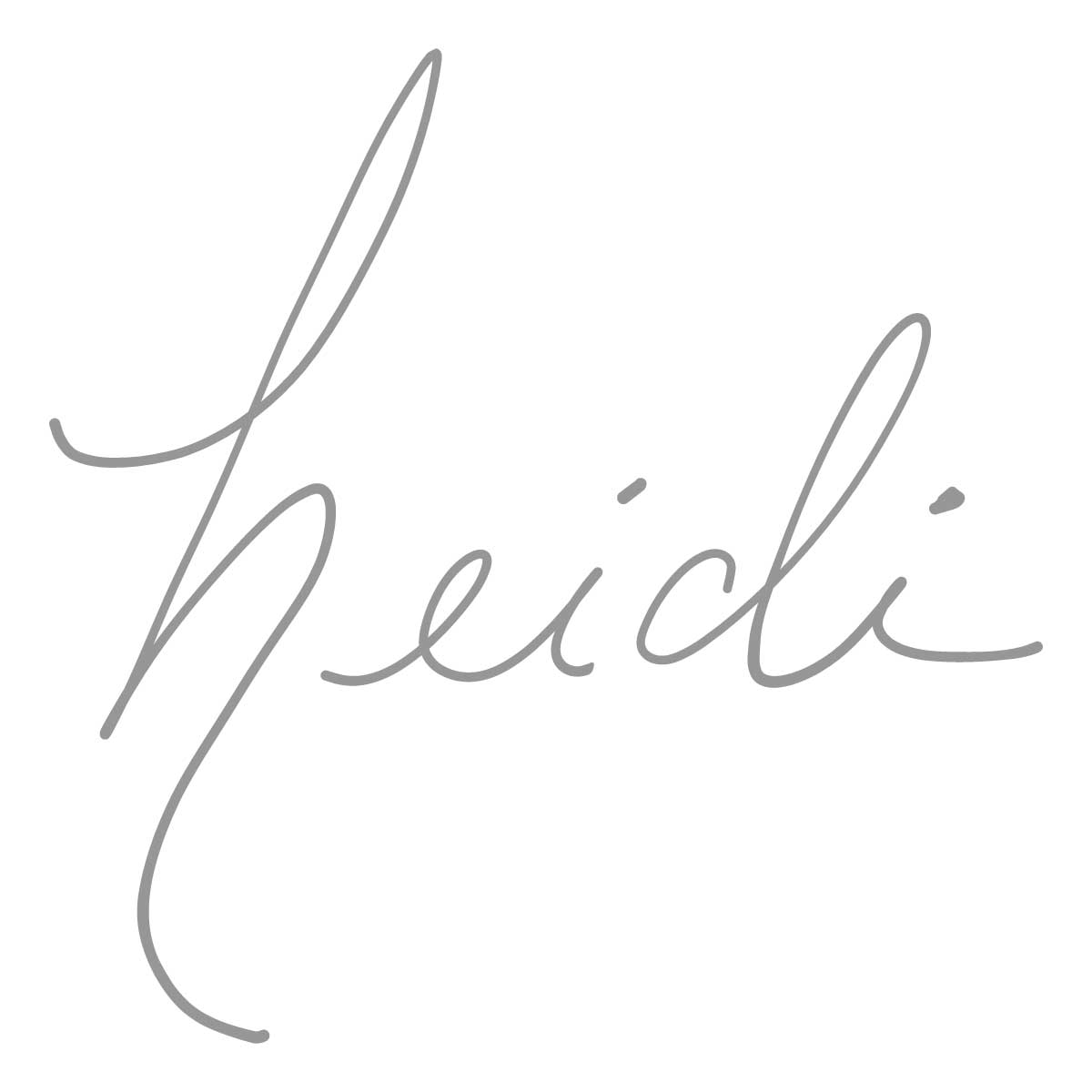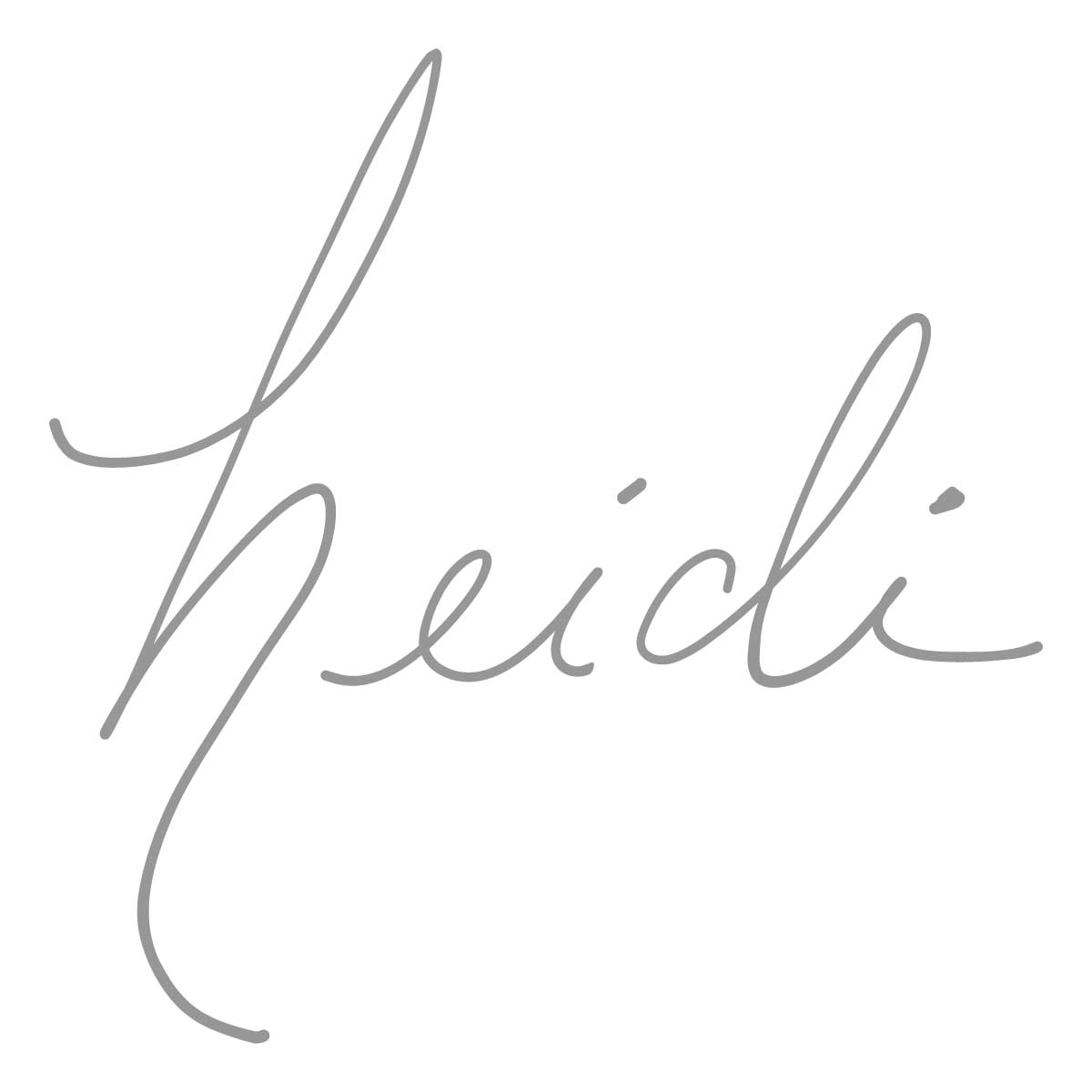 Related reading:
The Power of ?READY? || Plus Friday Faves: Jeans & Sneakers
Fun in the Sun: Healthy Summer Popsicles!
Making Summer Night Memories
BBQ Buns and Thighs
3 Ways to Stay Fit This Summer!