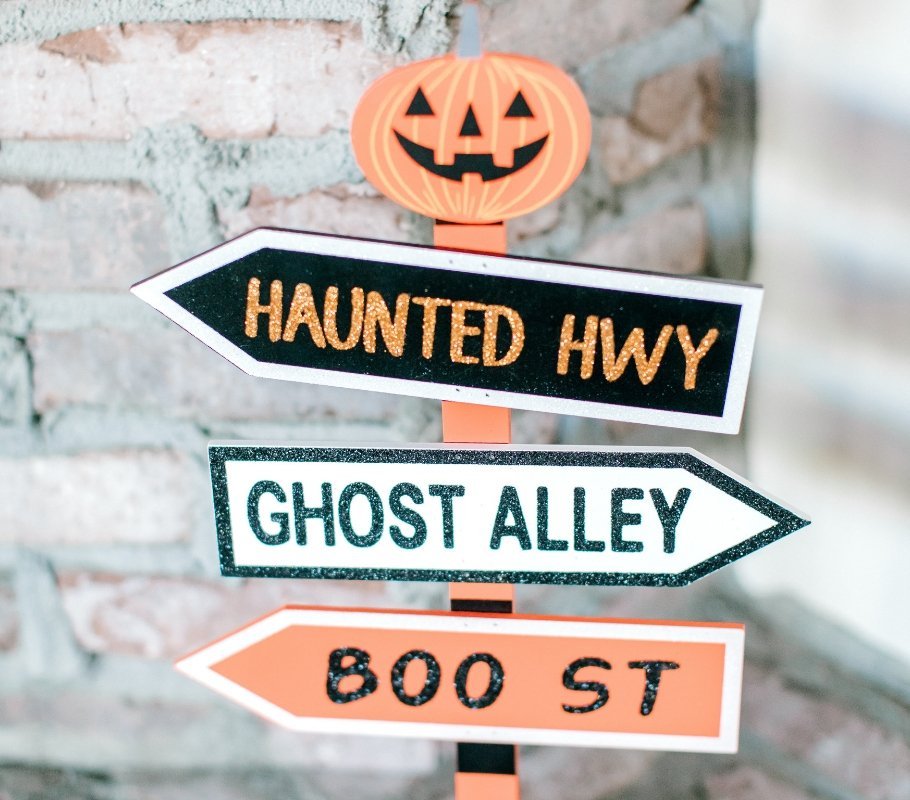 What do mummies like listening to on Halloween? WRAP music! Ahhh…if only you could hear all the jokes the kids have been telling as we get closer and closer to Halloween!
We absolutely?adore this holiday in the Powell household! It's a time when we can be even?more silly than we normally are, dress up, play harmless pranks, and scare each other until we all collapse into hysterical laughter! (And the candy isn't always a bad deal either…in moderation!).
And since Chris and I have had even crazier-than-normal schedules the past few weeks with multiple (and I do mean multiple!) flights and trips and bookings and meetings and prepping for the release of The Transform App 2.0?whew, hello, deep breath, we decided to take advantage of the past couple of days with the kids and get our house ready for Halloween!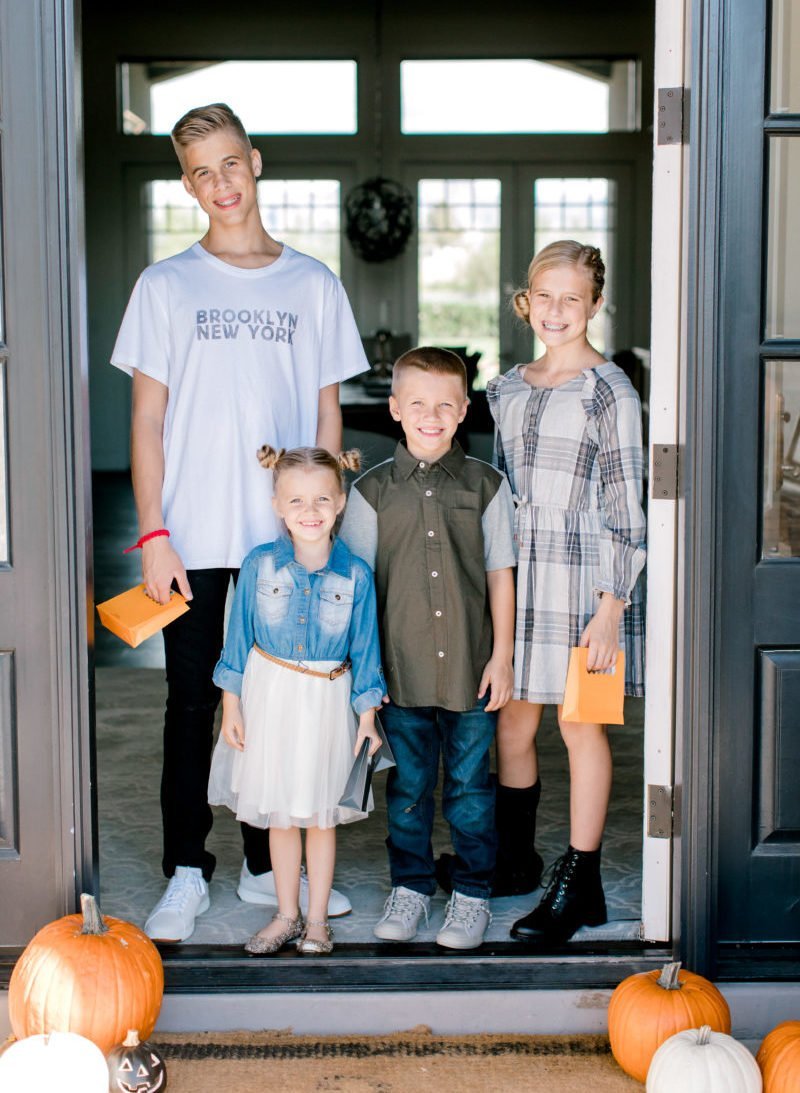 We had an absolute blast decorating (and telling a few Halloween jokes here and there!) that I just couldn't resist sharing some of our hard work with you! Plus, to see all the kids' smiling faces and their feelings of accomplishment made my mama heart melt just a little. I mean, guys.. I still remember Ruby's first Halloween like it was yesterday! How are my babies getting so big so fast?!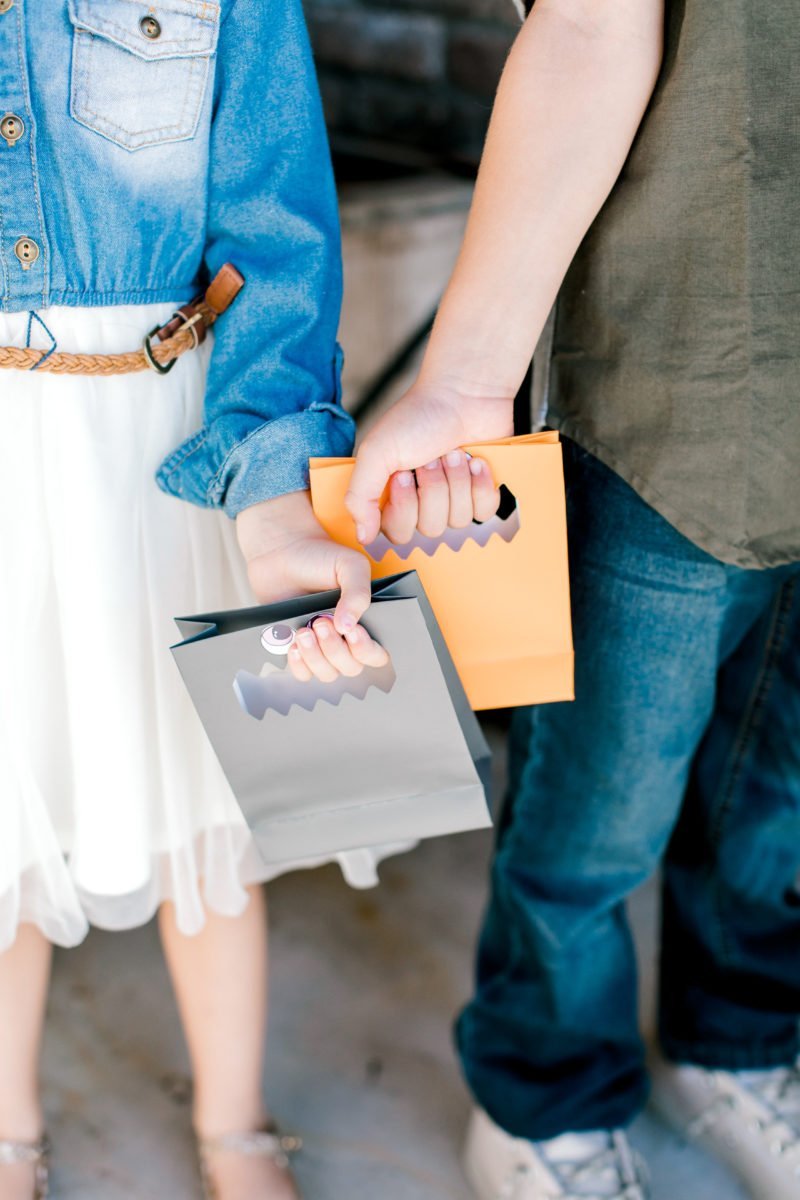 Goodie Bag Details: Treat Bags
Powell Pack Top Picks for Halloween Decorating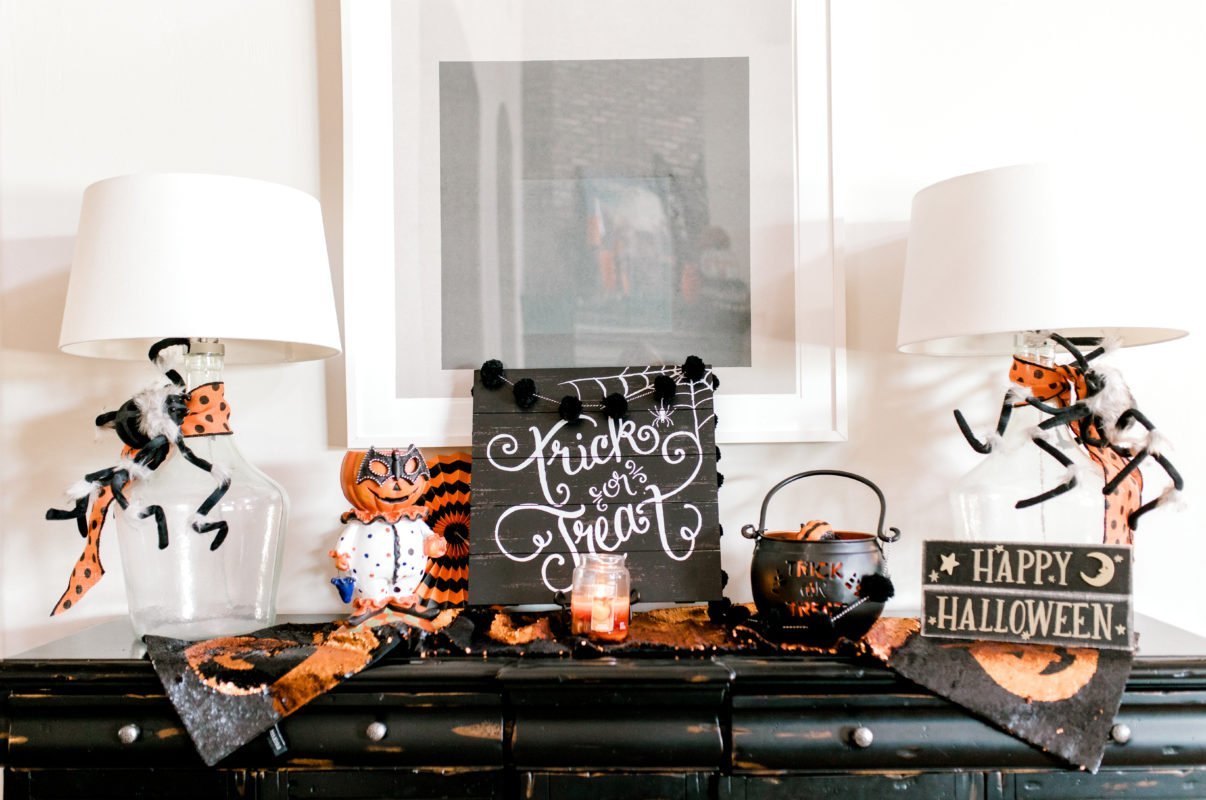 Decor Details & Similar Items:?Candy Dish, Halloween Garland,?Spiders, Trick or Treat Sign
It's no secret that I'm not exactly a DIY-Perfect-Pinterest-Mom, although I really do try! Luckily, there are some seriously adorable and festive Halloween decorations out there right now that you can find at some of your favorite stores, which means mama's hot glue gun doesn't have to come out of retirement any time soon. Plus, if you happen to be like me, and you're a late decorator this year, never fear! There's still plenty of time to get some incredible items in and have your house looking haunted in no time! 😉
Our first compromise of the day…the kids could put out the creepy little spiders, but mama's putting her fall scented candle front and center. At least these spiders are somewhat cute, right?! It's hard not to love them, especially when Cash and Ruby were naming them! What type of decor do you prefer? Super creepy or somewhat cute? I like to keep us right in the middle!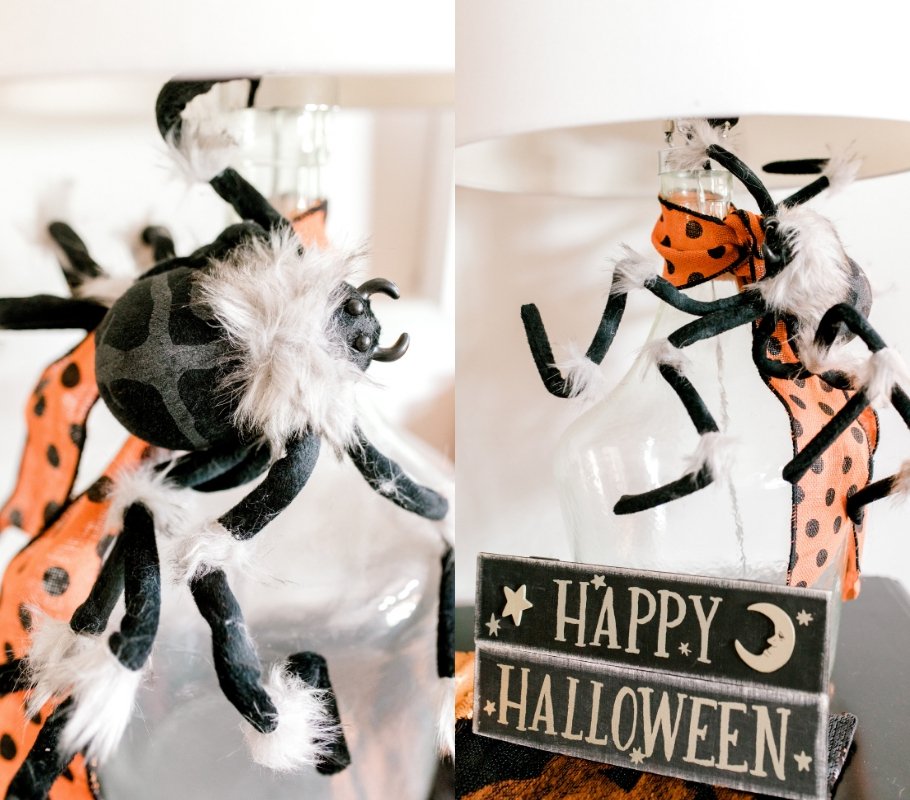 Healthy Halloween Hack: Fill your candy buckets with cute decorations instead of candy! This trick will help with any unwanted candy snacking before?and even after?the big day. Plus, you can always take a trip down memory lane with me if you're looking for some healthier versions for your sweet trick-or-treats!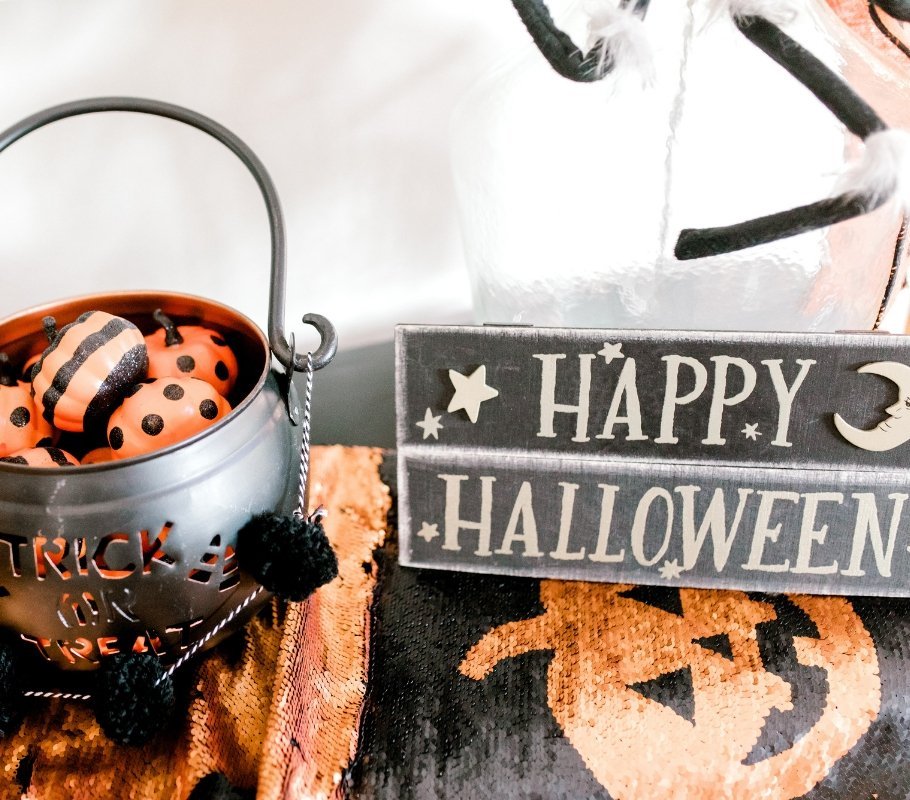 Decor Details:?Miniature Pumpkins
If you're anything at all like me, sometimes the idea of decorating for the holidays just seems plain overwhelming (yes, I said it). There have been SO many holidays and SO many years that I just didn't have the time to make it happen. And yes, mom guilt found a way to creep in. As much as I try, and as much as I know that?no parent is perfect, there are still moments , and I know there will always be moments, where I do feel guilty or that I'm not doing enough for my children. I think we can probably all relate on some level, am I right?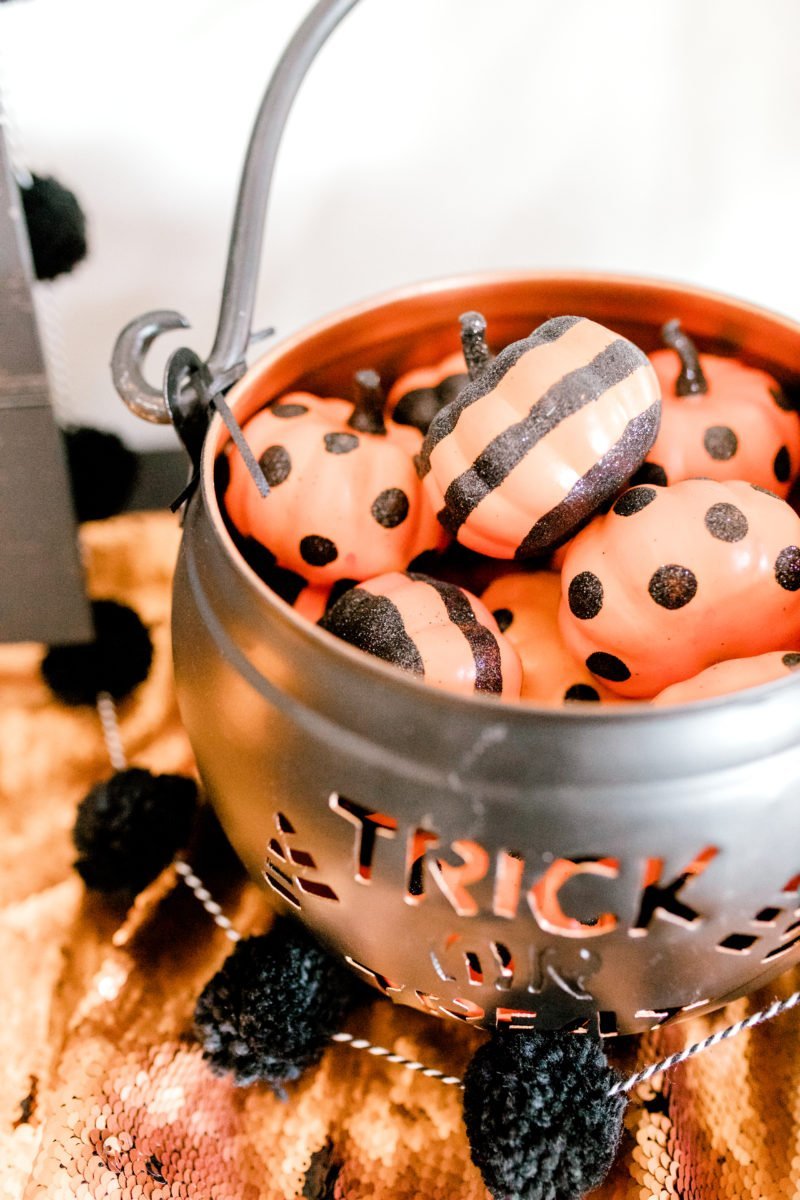 But this year, I was able to make it happen. So I'm going to celebrate in the small stuff AND the big stuff because doing something small like this, for me, is HUGE!
If I've learned?anything this year in being able to make it happen is that sometimes what makes it feel so stressful and like SO MUCH WORK is the amount of pressure we put on ourselves. Once I was able to just laugh, and have fun with it, and let the kids take the lead, decorating became easy-peasy, and we were finished in no time.
Decor Details & Similar Items:?Halloween Signs, Candles, Candlesticks, Paper Fans, Webbing Garland
So if holiday decorating is something that stresses you out too, or even just holiday preparation in general, don't let it. Find the stuff that you can manage and have fun with it as much as you can. Make a game out of who can come up with the best centerpiece or assign each member of your family their own little corner of the house to decorate. Once it becomes a game or activity, your stress level will start to go down, and you'll be amazed at how much you can accomplish!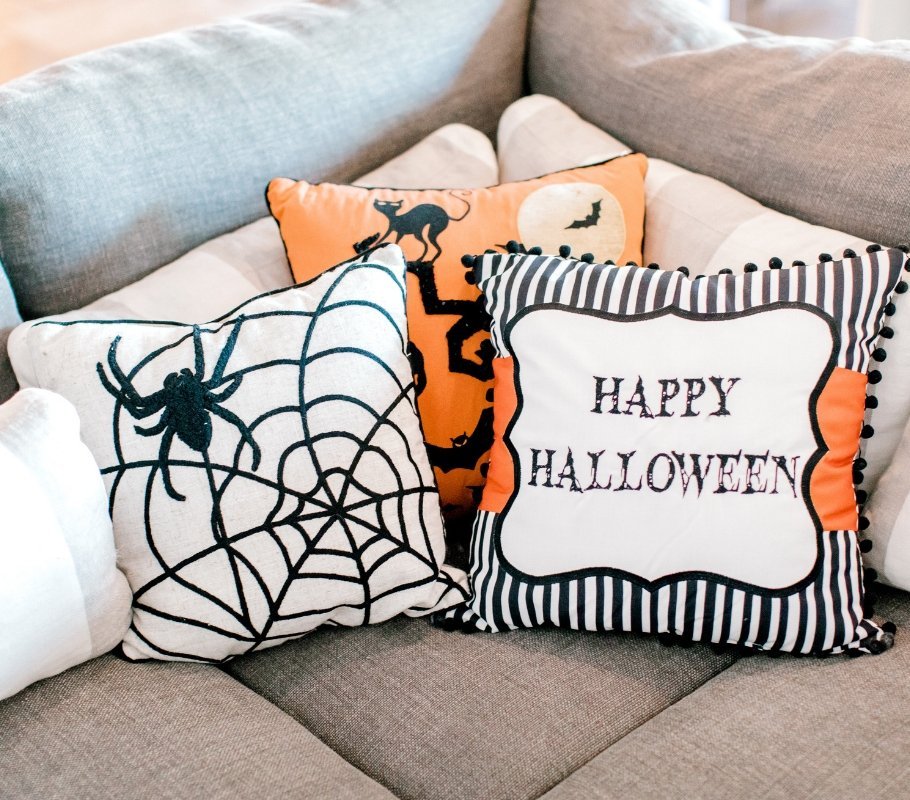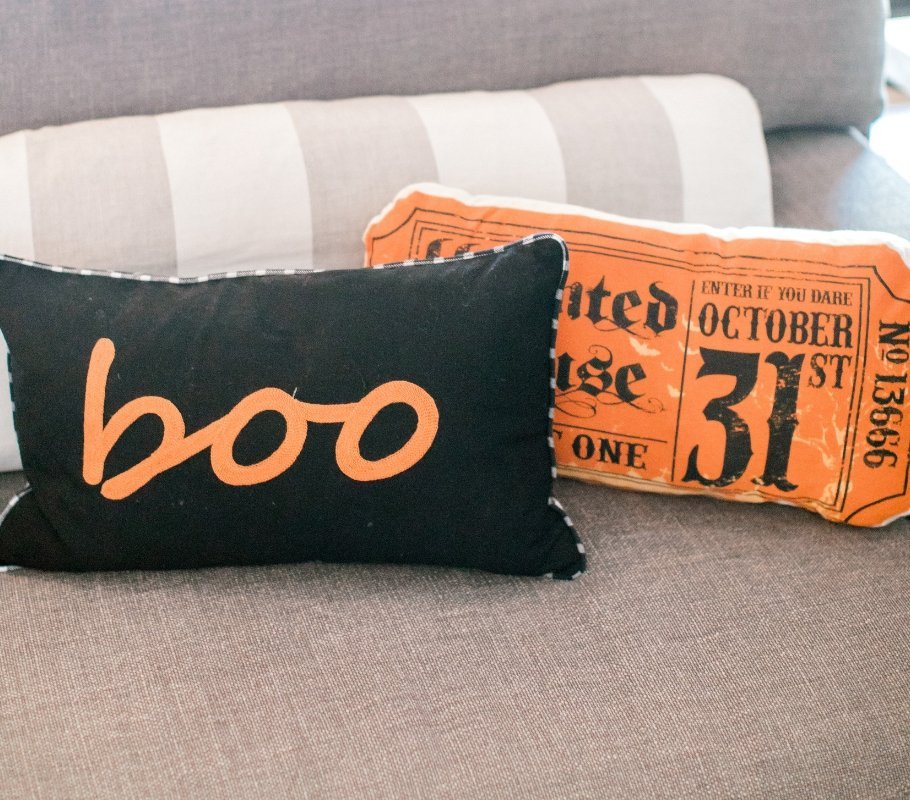 Another mom win: Fall scented candles? Check. Cute and cozy throw pillows? YES, PLEASE! (Let's be honest…I don't need a holiday to find an excuse to buy more throw pillows!!!).
So not only were we able to reduce my mom guilt-induced stress, but we were able to spend some quality family time together doing something that we love, having fun, and making incredible memories. And to show for it? We have a home completely decorated, ready for Halloween, and full of love.


So…tell me…what's your favorite holiday to decorate for?! OR what's your best holiday decorating tip?!
xo,
Heidi
Related reading:
Kids Halloween Craft: Monster Masks!
Powell Pack DIY Halloween Craft
Glitter Pumpkin Craft for Moms!
Halloween Candy Workout: Family Style!
How to Win the Halloween Candy War: My 3 Tips to Avoiding the Candy Binge
Photos by Ashley Burns Photography