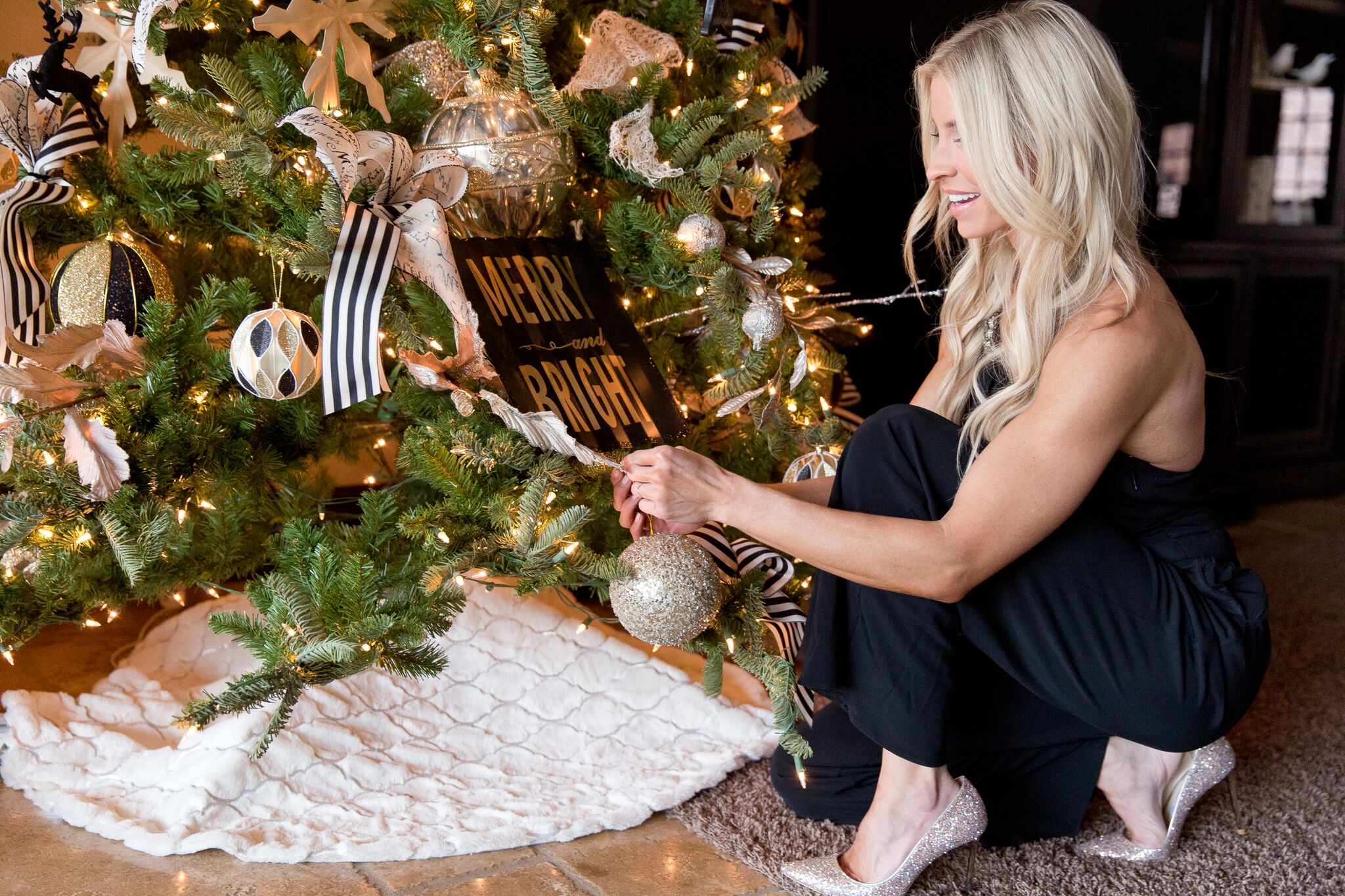 You guys, I'll admit it. My tree has been up since before Thanksgiving because it's the most wonderful time of the year, and I want to savor it for as long as possible. Isn't that the excuse for the tree being up far past January? #notsorry Let's be honest: Santa gets the praises, but Mrs. Claus knows where to find the best online sales. And even still, sometimes it's hard to know where to shop and where to go for the best deals of the ho-ho-holiday season. To leave you feeling more like Cindy Lou Who and less like the Grinch, I've scoured the internet to share the best sales, AND I've partnered with some of my favorite vendors to give you extra savings you won't find anywhere but here!
From the fashion lovers to the fitness fanatics, here's my list of deals from various price points to save you time and money?after all, time is money, right? ? With all these savings, you'll have some extra money in the piggy bank to #treatyourself while you're at it. Hey, Mrs. Claus deserves to be rewarded for all that hard holiday work!

Shop Spanx Moto Leggings Here ?
1. Spanx (20% OFF sitewide 12/27-12/2): These Spanx Moto Leggings are my personal favorite, and I've mentioned them before (click here to see how I styled these leggings and other items for holiday outfits for busy moms). These grab-and-go leggings are perfect for shaping and giving you that extra feeling of glam even when you're navigating the holiday storm. Want the look for less? I? love these budget-friendly faux-leather leggings on sale for $44 in select sizes.
2. Vince Camuto Prasata Ankle Bootie: These shoes are a favorite that I've blogged about before, and they are now on sale for under $100. If you want an extra $20 off your order, add this Elodie Teddy Jacket?(love it!) on sale for $25.98, and you'll grab the shoes and jacket for $100. If you want the jacket alone, depending on when you buy it, you'll get 50%-30% off now through 12/2. I also love this cardigan (pair it with the Spanx above) on sale for under $20 and then some for black Friday!
Here are some other deals from Nordstrom Rack:
50% off clearance items. Valid 11/27 at 9PM PST-11/29 midnight PST.
30% off clearance items. Valid 11/30?12/2.
Spend and Get: Spend $100, get $20. Spend $150, get $30. Spend $250, get $75.
Valid 11/27?12/2.
At Nordstrom Rack, I'll also be picking up this duster cardigan, which looks so cute with this Madewell tie front tank (select colors under $10!!), these Ray Ban sunglasses, and this off the shoulder sweater. I also love this Vince henley for Chris (under $50).
3. Free People Off the Shoulder Sweater: I love this sweater, and it's also at Nordstrom Rack, so stack those deals above. Right now, it's on sale from over $100 to under $60. I also love this thermal for under $30. It's so cozy and cute! If you pick up this sweater, the Vince Camuto booties above, and these STS Blue Jeans that I blog about all the time, you'll be out the door for under $150.
4. Belldini Chevron Duster: I love a brand that sends a good message, and Belldini is a family-owned fashion house whose motto is "Style At Every Size." Their line includes the cutest tops for Missy and Plus sizes with a little extra sparkle and shine. I've partnered with them to give you guys 40% OFF using code HEIDI40. Some of my top picks are this Long Sleeve Ruched Cowl Neck Sweater (plus size available here), this cross-over tunic tank (under $50), and this Chevron Metallic Duster.

It's no surprise, I love Cents of Style. I've partnered with them again to pick some of my favorite items. Use code HEIDIGIFT for 40% OFF my favorite picks. They are also giving 20% OFF anything not included below with code HEIDI20. It's my gift from one busy mama to another.
Here are my top picks from Cents of Style:
1. Gia Beanie: I can't wait to feel just like Elsa and build a real live snowman this holiday season. Too bad it never snows in AZ! But when those temps drop, I'll definitely be ready in this leopard print Gia Beanie. Proof that just because you have to bundle up doesn't mean you can't be cute doing so.
2. Orson & Thelma Joggers: These joggers are great, and they come in so many colors, although I love the Smoke Green. These are perfect for late nights by the fire or for mornings spent wrapping those presents before the kiddos get out of bed. Click here for the matching top.
3. Bobbie Vest: Speaking of bundling up, I love this vest. It's so soft and flattering. It's the perfect vest to pair with the Gia Beanie.
4. Aria Slippers: All this girl?and probably most mamas?want for Christmas is to cozy up in these Aria Slippers. Comfort never felt so dang good!
5. Amber Sweater (Love in Blue/Plum): For any busy fashionists, this sweater makes an instant outfit.? I'll be gifting this to Marley (and probably myself) this season.
6. Kat Cardigan: If you love those Spanx, they look even better paired with this Kat Cardigan and a tunic top. My absolute favorite grab-and-go for the season.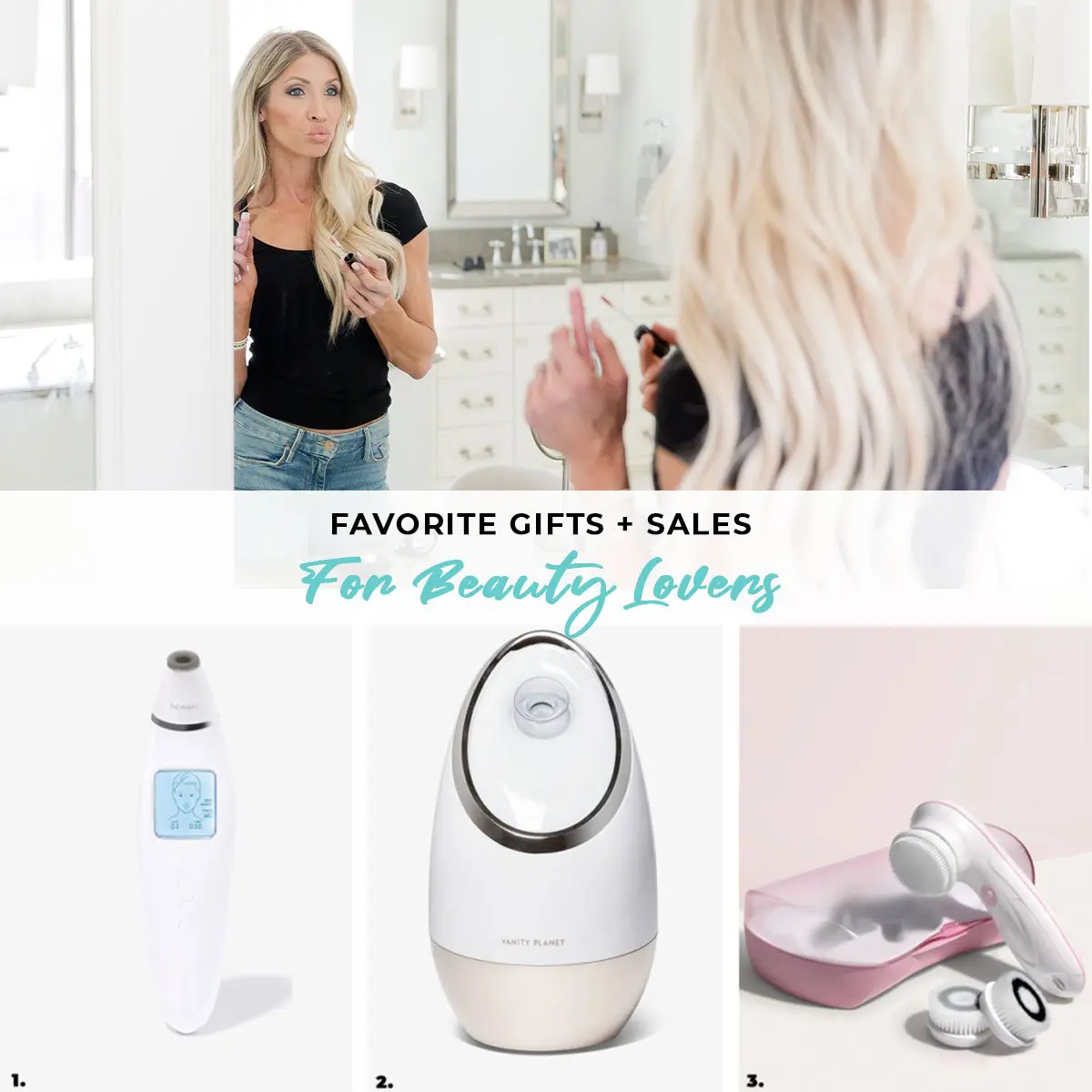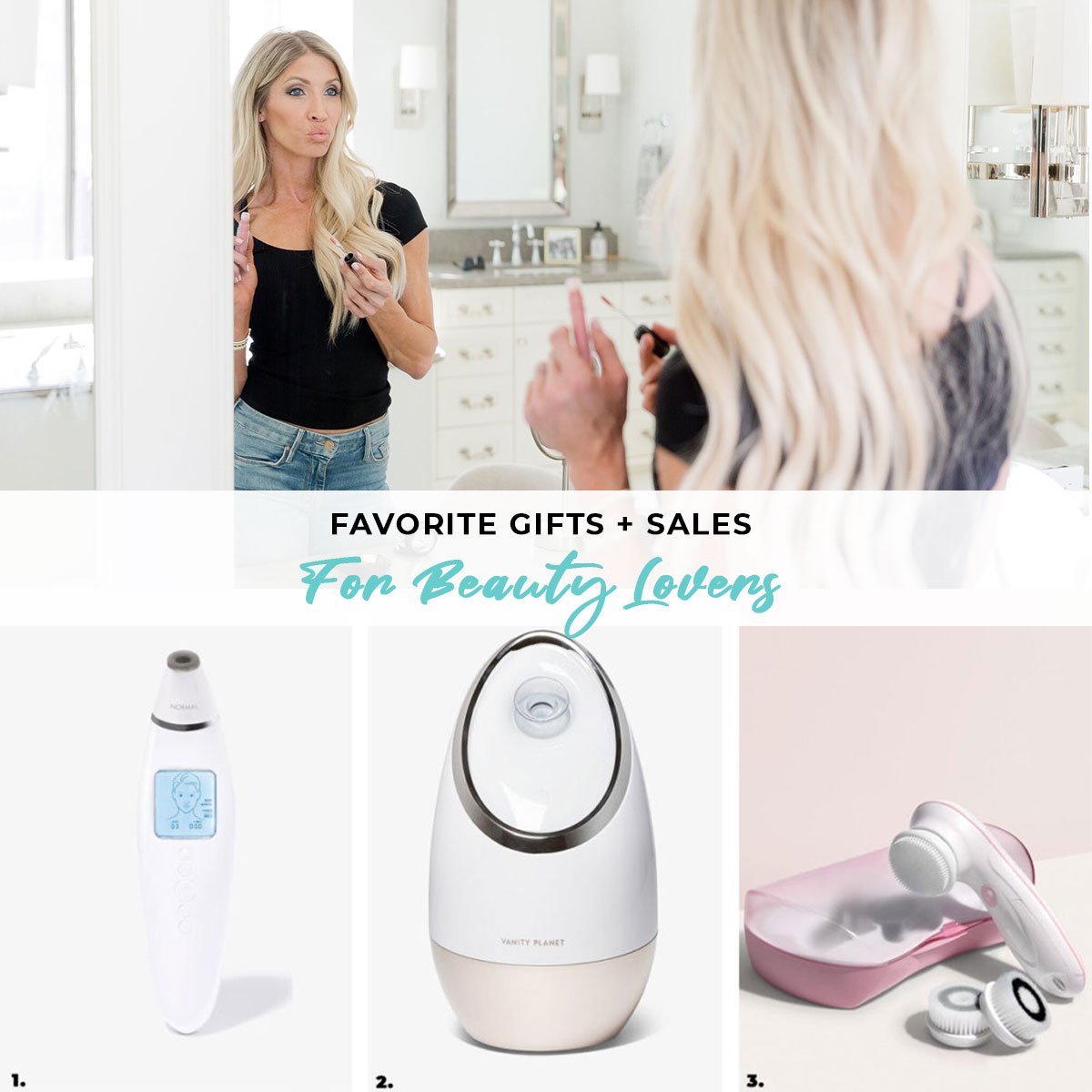 Click here to see my daily makeup routine and shop my beauty essentials ?
I haven't included these gifts in the past, but after so much positive reception on my anti-aging post and beauty posts, and in the hope that we all Benjamin Button this holiday season, I'm sharing some of my favorite beauty, self-care essentials from Vanity Planet, one of my favorite brands that I've posted about on Instagram, plus some coupon codes to save you even more money!
1. Exfora Microdermabrasion Wand: With this, you never have to call to make an appointment! I'll take two. This is an absolute MUST. Take 60% OFF with code HPXDERM.
2. Facial Steamer: I'm not sure what I ever did before my Facial Steamer came into my life. Detoxify that pretty face of yours and unclog pores. It's truly the gift that keeps on giving. Take 45% OFF with code HPXSTEAM.
3. Ultimate Skin Spa: Enjoy a spa day every day with this little device that I LOVE! Guaranteed to deep clean and leave your skin feeling smooth and refreshed?perfect for the beauty lovers in your life. Take 70% OFF with code HPXULT.

Before I get into all our favorite fitness finds, I'm loving this "Merry Fitmas" Card that is sure to get a laugh or two from Santa…I mean, Chris. And it wouldn't be the holidays without those Christmas Workout Leggings that everyone loves this time of year (bonus: on sale under $20). Either way, I've rounded up some of my holiday must-haves, plus a couple of TRANSFORM bundles sure to wow your fitness-enthused loved ones.
1. 4KOR Resistance Band: Ok, this isn't technically on sale, but it's the perfect stocking stuffer for any fitness lover who wants to step up their game without breaking the bank. Click here to read more about why everyone should own a resistance band and some of my favorite banded moves.
2. Reebok Classic Sneakers: From Chris, who loves these sneakers, to the kiddos (see all styles here), so many Reebok styles available at Kohls are Powell Pack approved. Plus, stack the top coupon codes below to save even more! Ruby's has these Reebok Classics (extra savings with code GIVETHANKS through 11/29), these?Reebok Blush Reebok Classics are a favorite of mine (on sale plus additional savings with coupon codes below coming in under $40), and I also love this Purple/Black Reebok Classic Combo. Bonus: another favorite style is the Reebok Flashfilm Sneakers on clearance for under $40. Your fitness lover is about to be in shoe heaven.
15% off with code TURKEY15. Valid 11/25-11/29.
Take $10 off $50 Clothing, Shoes, and Accessories with code SATURDAY. Valid 11/30.
Take 20% off with code 20FORYOU. Valid 11/30-12/4.
3. Garmin Fenix 5S Smartwatch (or this Fitbit for a budget-friendly smartwatch option on sale plus $45 Kohl's cash with purchase): This gift is a splurge, but it's worth it. It's on sale, and you will get Kohl's cash back with your purchase. This watch is jam-packed. It comes packed with TOPO maps, stores up to 500 songs, has built-in navigation, and even a barometric altimeter for those outdoorsy fitness folks. If you want something more budget-friendly, the Fitbit is another option we love. Who doesn't love a good smartwatch in their stocking?
4. Vanity Planet Body Analyzer (take 55% OFF with code HPXSCALE): Track your progress from day one with one of my favorite gadgets of the season. The Vanity Planet Body Analyzer tracks more than just weight. It tells you your body fat percentage, muscle mass, bone density, and water weight. Get in tune with your body this season so you can crush those New Year's goals.
5. Transform Bundles: It wouldn't be Christmas without some TRANSFORM bundles and app discounts plus a new stainless steel water bottle! Give the gift of health?and both Chris and me in your loved one's pocket. Our app is stacked with daily workouts to meal plans and more.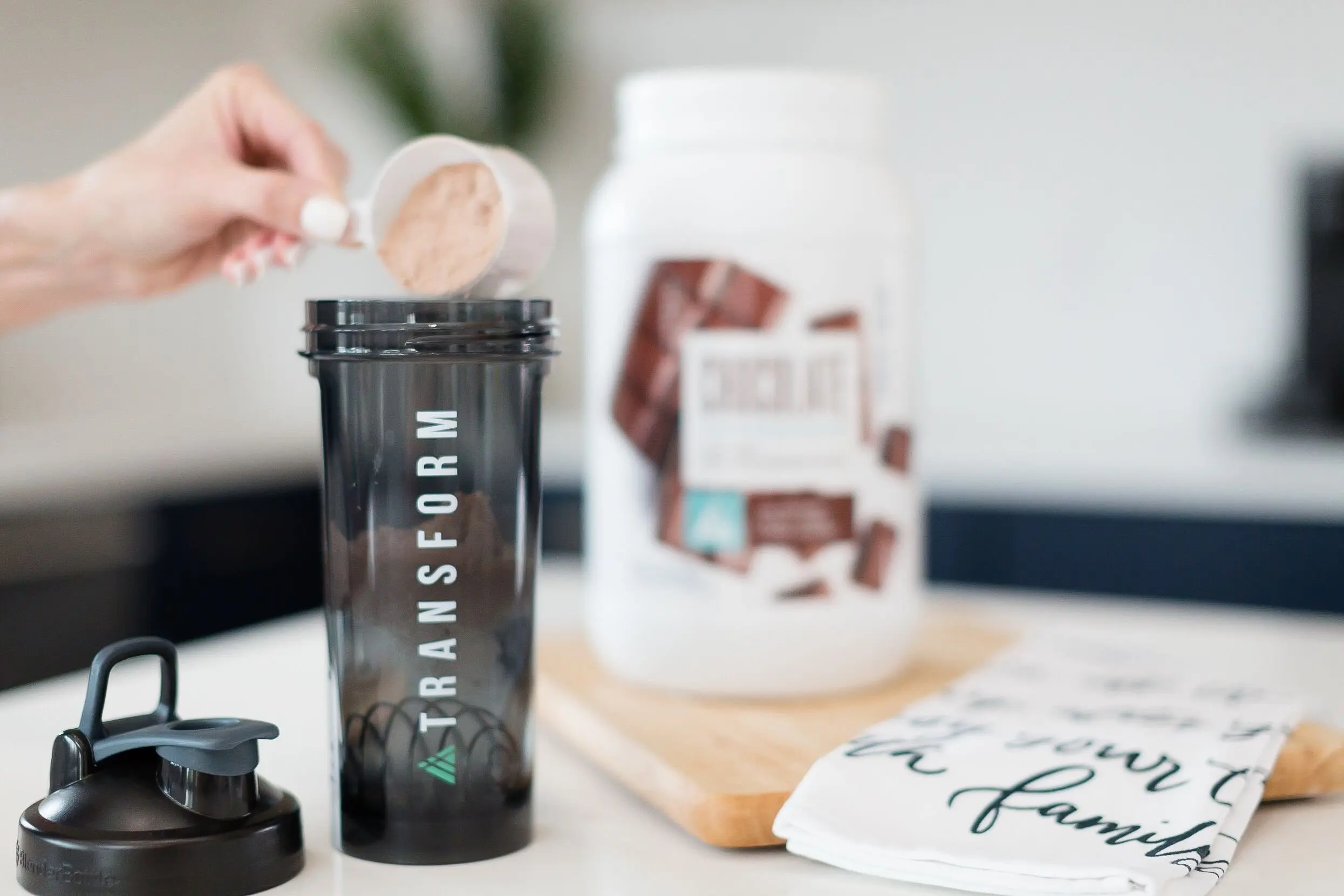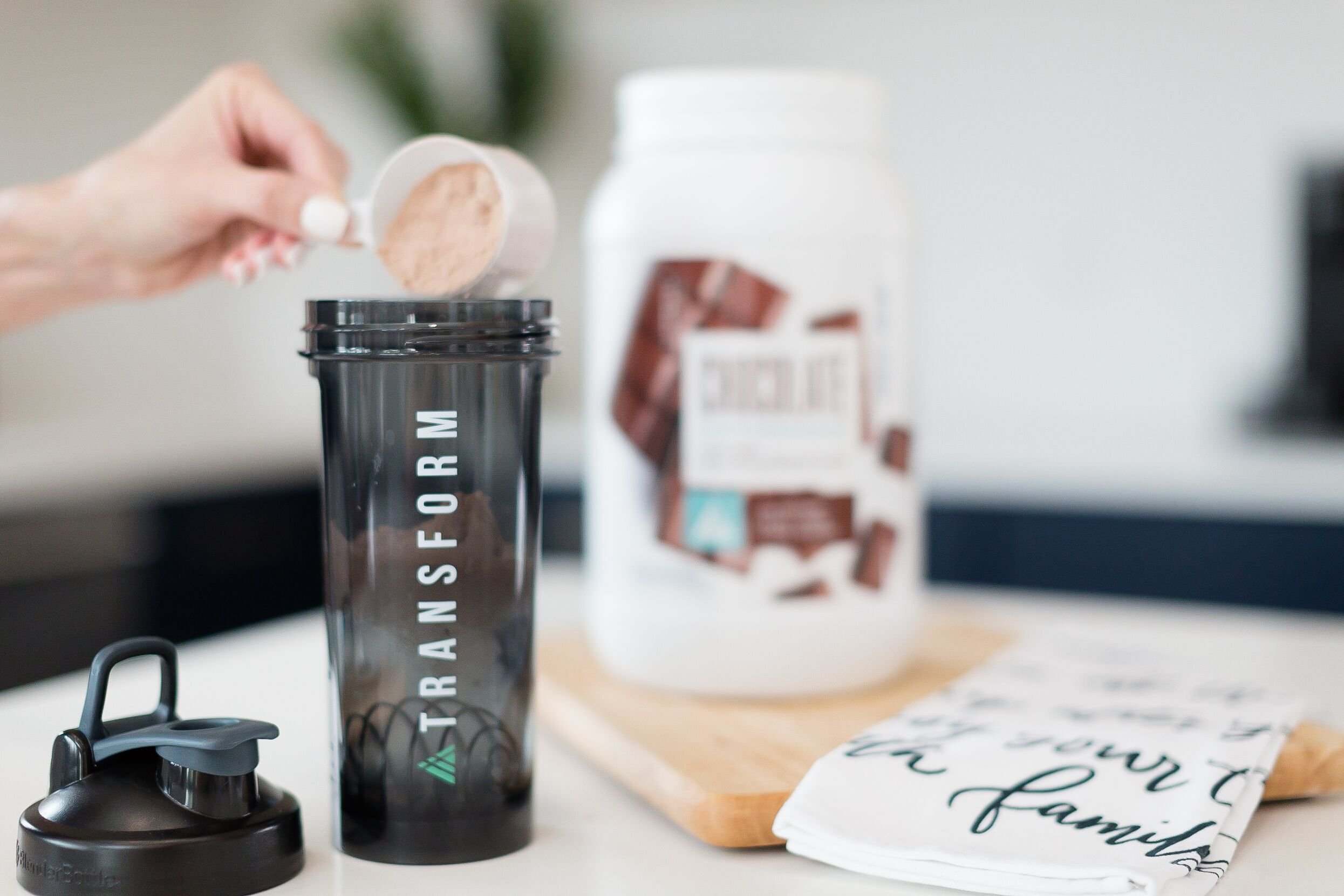 Click here to shop these amazing bundles and app offers ?
Bundle #1: 1 year of the TRANSFORM app, 2 tubs of meal replacement shakes, 2 tubs of Boost Shot, our new stainless steel water bottle, and the Transform shaker bottle.
Bundle #2 (for loved ones that already have the app): 2 tubs of meal replacement shakes, 2 tubs of Boost Shot, our new stainless steel water bottle, and the Transform shaker bottle
The TRANSFORM App: We're offering Lifetime Memberships on the app (Note: only 300 available, so don't wait) or the following:

Buy 1 month, get 1 month free
Buy 3 months, get 3 months free
Buy 6 months, get 6 months free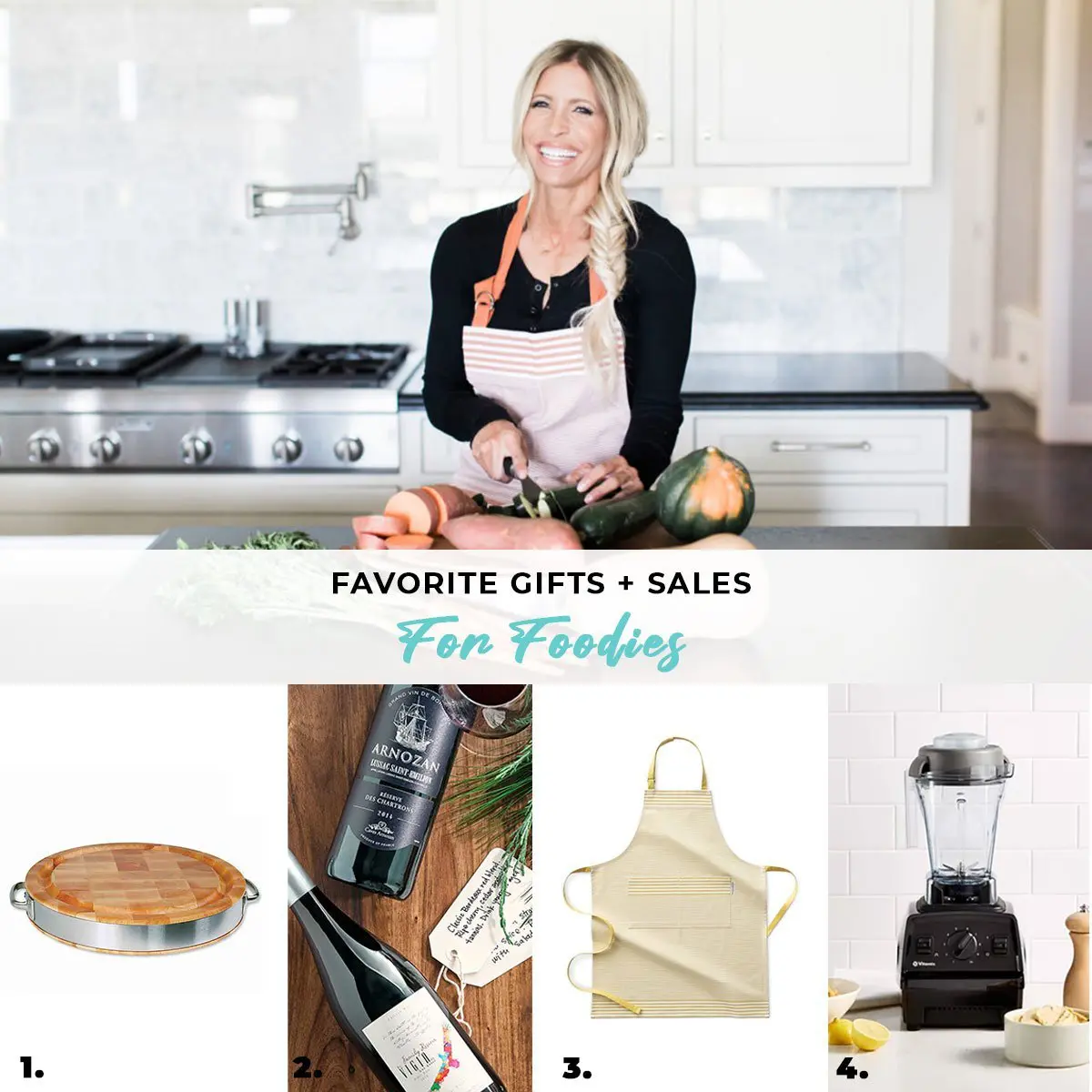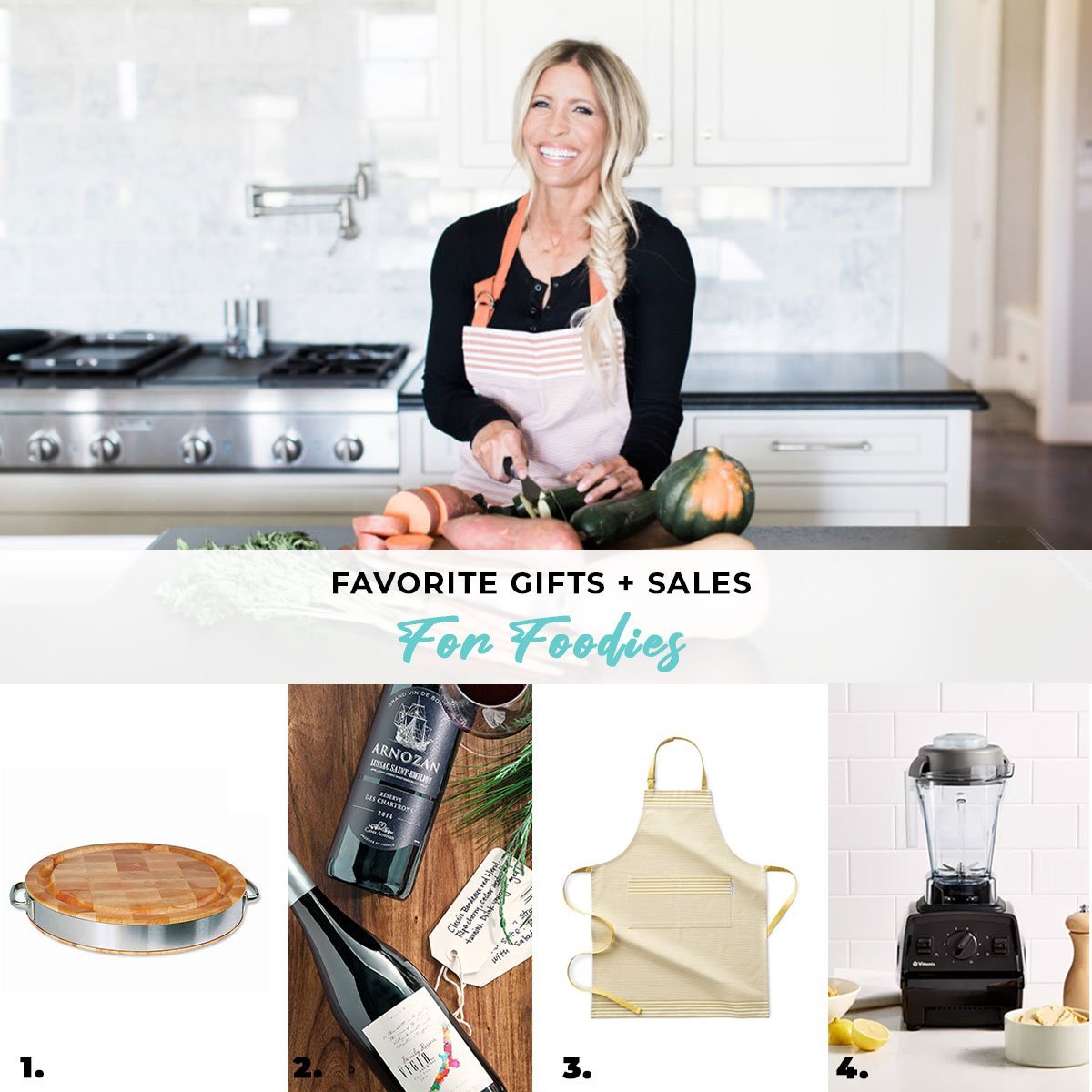 Outfit + Kitchen Details:
Splendid Thermal Shirt?(similar?here?under $15),?Apron?(on sale!),?Cutting Board,?Knife Set
1. Boos Cutting Board: This cutting board is a household staple, and I get tons of comments whenever I post a photo of it. Funny enough, it was a gift, and it's one of those items that I wouldn't buy for myself (because it is a little pricey), but I'm BEYOND happy that someone got it for me because it's so beautiful. That said, I'd definitely gift this to a fellow foodie just due to the sheer love and use it brings me every time I step foot into my kitchen.
2. Wine Insiders: You guys, while I'm not a drinker, wine sets are a great?and a super easy?way to gift people without leaving your couch. Now through 12/3, take 40% off the entire site with some bottles up to 76% off. For the wine lovers in your life, they'll be able to taste different kinds of wine and pair them with their food. Maybe they'll even discover their new favorite blend or vineyard. We love gifting these to our friends and family.
3. William-Sonoma Apron: I love this apron. Not only is it on sale for under $20, but it's super cute and unisex. Plus, it comes in a bunch of different colors, and you can get your favorite chef's name or initials on it for only a couple of dollars extra. It also comes in a kid's version so you can mommy and me it up in the kitchen.
4. Vitamix (33% OFF + FREE Shipping): I've blogged about my love for my Vitamix time and time again (click here to see my pre-packed smoothie recipes). It's on sale, and you won't regret picking this up. For an added holiday gift idea, buy these printable recipe cards (now 25% OFF) and handwrite your favorite Vitamix recipes like smoothies, soups, and even nut milks. I'm pretty sure everyone enjoys a personalized touch when they get a gift!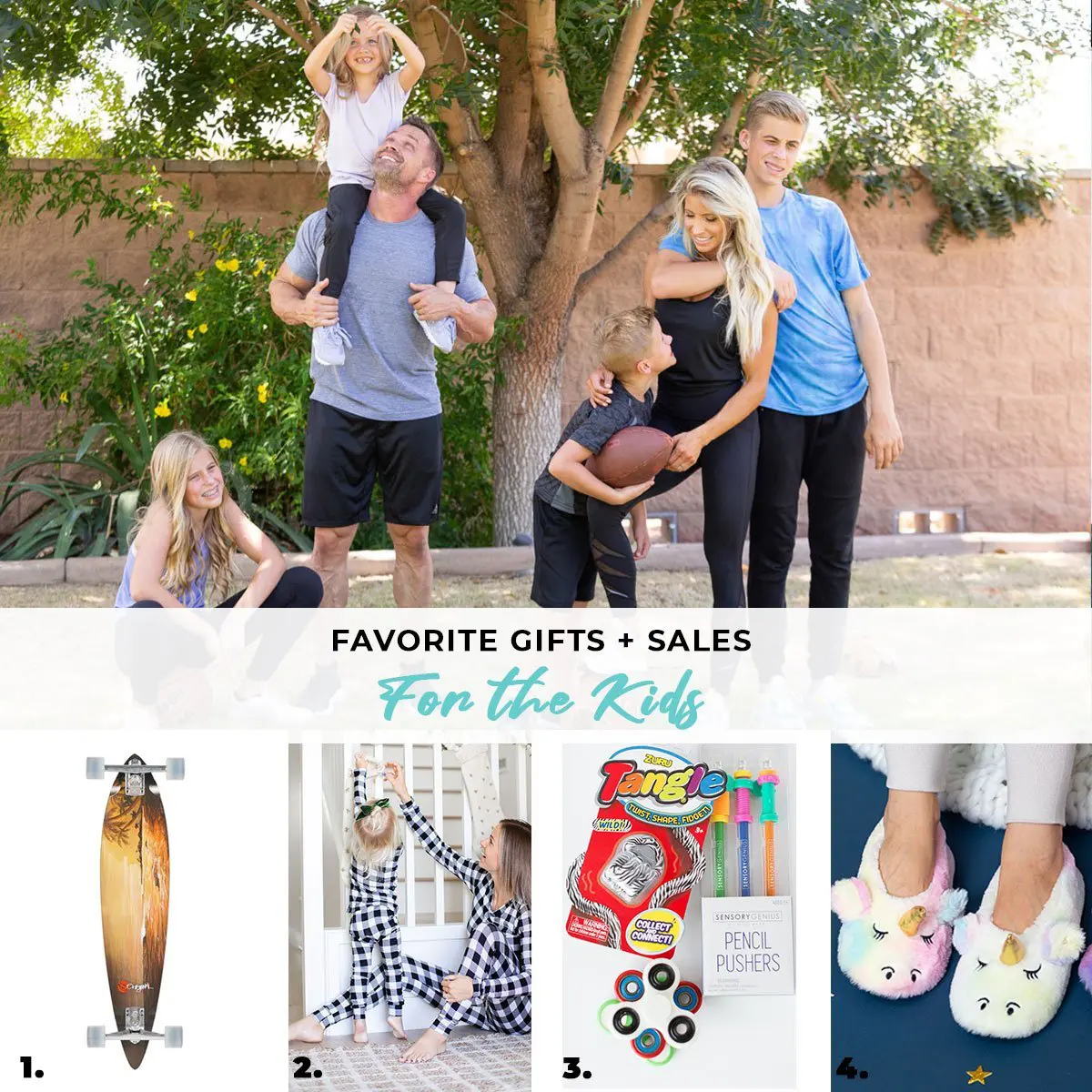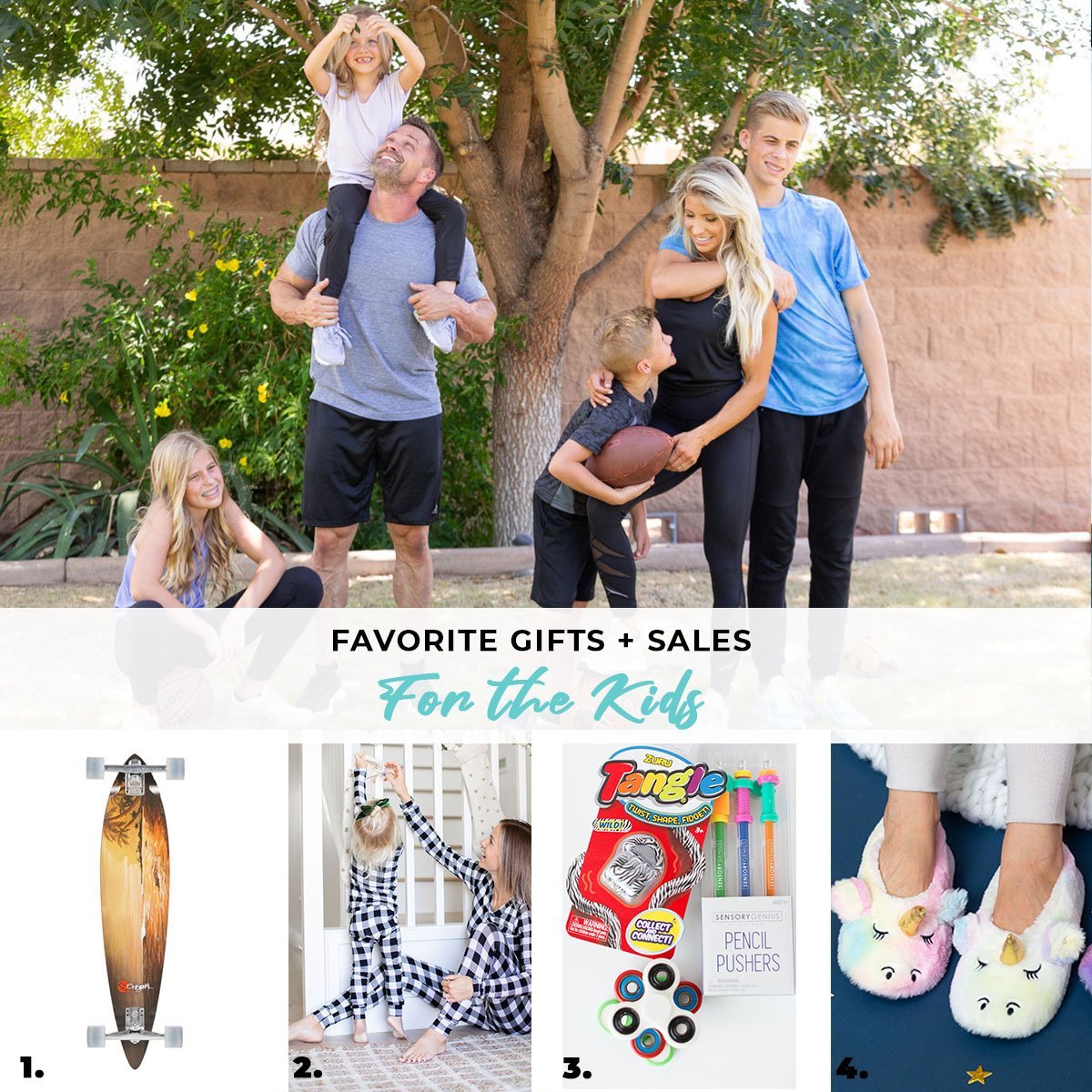 1. Original Skateboards Pintail 37 (Code POWELL20 for 20% OFF sitewide): These longboards are perfect for the kids (and also the mom and dads ?). They come in a variety of sizes to fit your littles to your biggest kids (Pintail 37-Pintail 46). Plus, they make their own longboard trucks that simulate the feeling of snowboarding and surfing, which is especially cool for those of us who are landlocked or not near the ski slopes all the time. We're all about getting the kids outside, and this is the perfect way to get them outside, active, and rolling around for hours a day.
2. Cozy's PJ Sets (Code HEIDI 25 FOR 25% OFF sitewide through Cyber Monday): Is it just us, or do you love matching PJ sets for those hectic, but loving, holiday mornings? We love Cozy's PJ sets. Give the gift of adorable and comfortable PJs this season in all sorts of fun patterns and colors. Ruby is obsessed with this star set since we gave them to her last year, so you know it's a given that she'll be rocking her new set through to 2021.
3. Sensory Genius Pencils: We gave this last year, and we're giving them again because the kids (and Chris) are obsessed. These Sensory Genius Pencils make an amazing gift for the kiddos who love to constantly be moving but need to be learning, because you CAN do both at the same time. Make those pencil cases and homework activities fun with a little color and personality. You can also buy a full set of their products now on sale!
4. Buttercup and Lily Unicorn Slippers (Code HEIDIGIFT for 40% OFF): Paging Miss Ruby Lane, I'm pretty sure these slippers were made of her. Plus, with code HEIDIGIFT, they come in at $12!! They are sure to delight and be the perfect addition to a unicorn-themed holiday. Ruby also loves this unicorn Christmas stocking and this unicorn sleeping mask. I'm buying these unicorn socks for Ruby and the Llama version for Mars. So cute!
Heidi's Holiday Giveaway
To help you busy mamas get into the holiday spirit, I'm giving away six bundles of gifts. Each day, I'll add a new item to this giveaway list for a total of 6 days of giveaways! Total value for all items for all giveaways: $1,291.92!? You will have 24 hours after the daily giveaway is posted to enter to win. Once the next giveaway is open, the previous giveaway will be closed (i.e. giveaway 1 is closed once giveaway 2 is posted), so remember to check back daily!
Giveaway 1 | Cozy's Matching PJ Set (value $85): One winner will get one matching set of adult size and child size PJs, perfect for Christmas morning! **Closed** Giveaway 2 now open ??

Giveaway 2| Cents of Style Gift Set (value up to $180): One winner will be awarded a Cents of Style bundle. Pick TWO of the items from Cents of Style featured in this post plus another TWO for yourself. Kick start that holiday wardrobe early. **Closed** Giveaway 3 now open ??
Giveaway 3 | Original Skateboards Pintail Longboard Size of Choice (value $189): One winner will receive a Pintail Longboard setup and size chosen by Original's in-house team riders and board builders. **Closed** Giveaway 4 now open ??
Giveaway 4 | Belldini (value $200): One winner will receive a $200 gift card for Belldini.com. They make amazing sweaters, leggings, and tops perfect for us busy mamas! **Closed** Giveaway 5 now open ??

Giveaway 5 | The Ultimate Beauty Bundle (value $288.99): One winner will receive the Vanity Planet's Facial Steamer and Exfora Microdermabrasion Wand. **Closed** Giveaway 5 now open ??
Giveaway 6 | Transform Bundle (value $347.93): One winner will receive 1 year on The TRANSFORM App, 2 tubs of Chris + Heidi Low Carb Meal Replacement Shakes, 2 tubs of Boost Shot, our new stainless steel water bottle, and a Transform shaker bottle.
Enter to win by doing both of the following:
Comment below with who you want to gift these special items to and why (heck, maybe it's yourself because you deserve it!). I will pick a winner daily!
Good luck + Happy Shopping!
xo,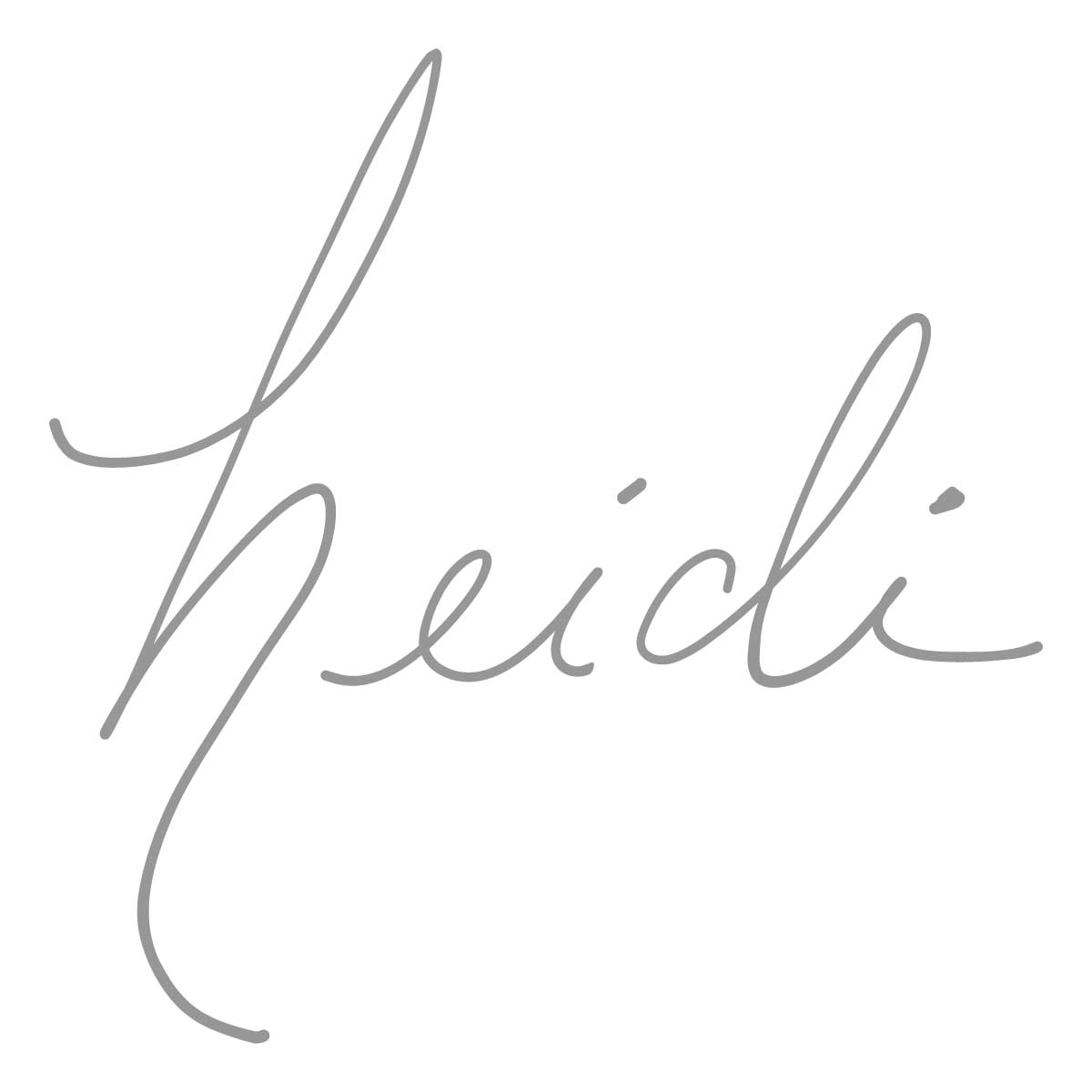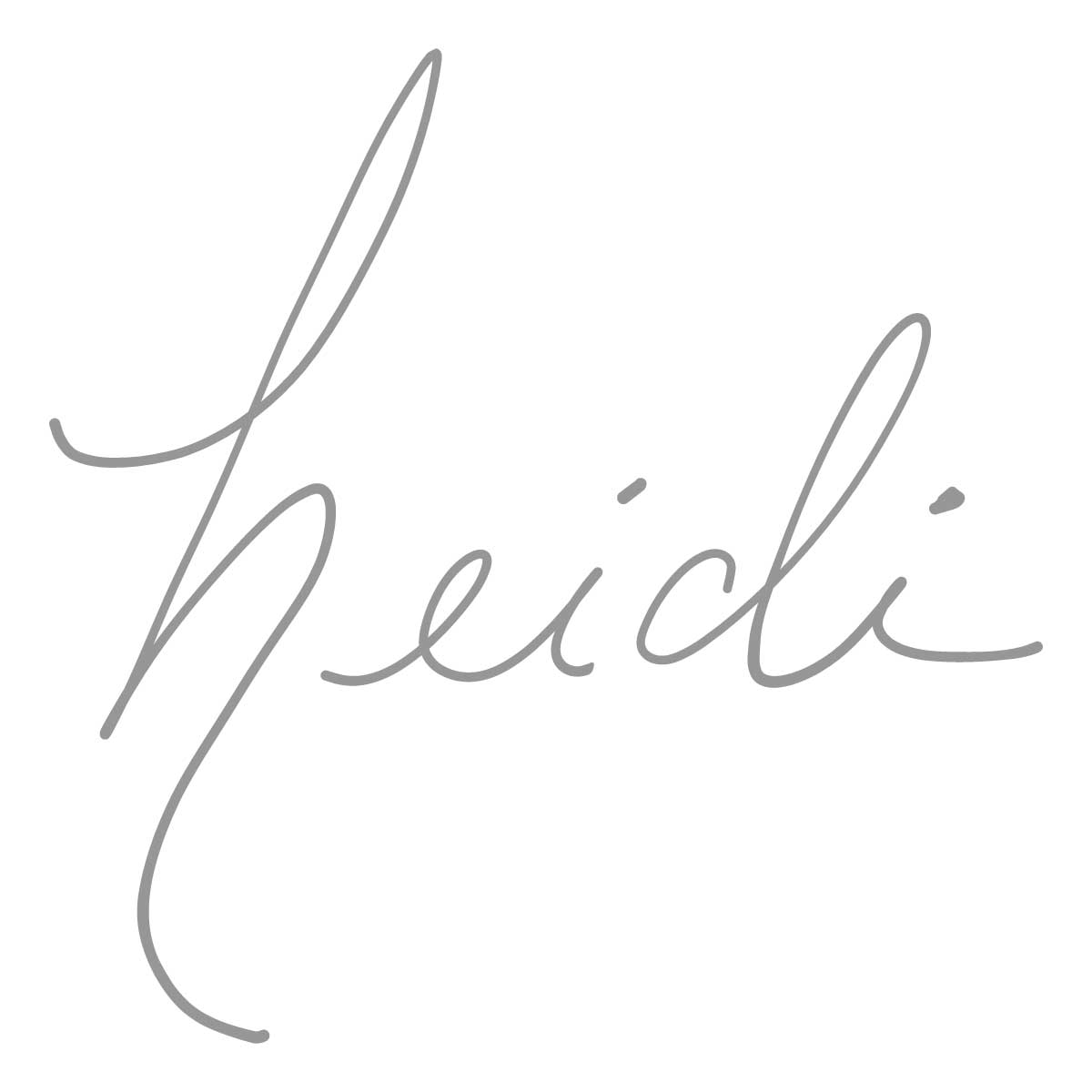 Related reading:
No Bake High Protein Holiday Fudge Recipe
6 Best Healthy Holiday Recipes
Ask the Powells: How Do We Handle the Holidays?
My Top Ten Tips for Holiday Survival
5 Ways to Practice Mindful Eating This Holiday Season